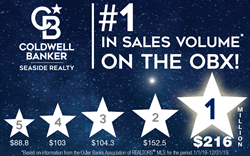 "Because we are a client focused firm, we provide our agents with marketing tools, training resources and support to allow each agent to better service their clients and provide an exceptional experience in both the home selling and buying process." - Pamela Smith, VP, Coldwell Banker Seaside Realty
KITTY HAWK, N.C. (PRWEB) January 27, 2020
Additionally, Coldwell Banker Seaside Realty topped $220 million in sales for 2019 making them the only firm in the market to reach over $200 million in sales for two years in a row.
The Outer Banks residential market saw an 8% increase in both units and sales volume compared to 2018. The average sales price declined slightly to $416,698. The declining inventory helped lower the average days on the market which ended the year at just 117 days. Click here to view the full Outer Banks Market Report.
"We saw the market in our area shift from what has been a traditional seasonal market towards a more year-round market in 2019. December is always a strong month but this year, the 4th quarter was our best quarter of the year. Although the investment and second home market continue to dominate, there are now more people moving to the Outer Banks to live year-round. Advances in technology have allowed people to live anywhere and work from home and I believe we are seeing the benefit of this on the OBX. According to the Outer Banks Association of Realtors MLS, the area also had the best quarter of the year in both units and sales volume," explains Pamela Smith, Vice President of Sales at Coldwell Banker Seaside Realty.
"Because we are a client focused firm, we provide our agents with marketing tools, training resources and support to allow each agent to better service their clients and provide an exceptional experience in both the home selling and buying process. The positive feedback we get from clients in online reviews and personal referrals throughout the year continually reinforces the success of this approach. We are the best because our agents are the best!"
Family owned and operated and celebrating their 30th anniversary this year, Coldwell Banker Seaside Realty offers top-tier real estate services to buyers and sellers across the entire Outer Banks and all of northeastern North Carolina. Over the course of its 30-year existence, Coldwell Banker Seaside Realty has earned a reputation as a premier real estate firm best known for its knowledgeable team, area expertise and commitment to the latest technology. Combined with the Coldwell Banker brand, one of the largest and most influential residential real estate brokerage franchises in the world, it's no surprise Coldwell Banker Seaside Realty continues to dominate the highly competitive Outer Banks real estate market.
*As reported by the Outer Banks Association of REALTORS and Albemarle Area Association of REALTORS 1/01/2016 – 12/31/2019.
###