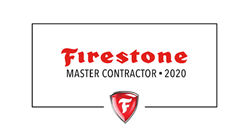 BALTIMORE (PRWEB) November 12, 2020
Firestone Building Products, a leading manufacturer of commercial roofing systems, has awarded Cole Roofing Company its prestigious Firestone Master Contractor Award.
Firestone exclusively awards the Master Contractor designation to contactors who have demonstrated the "quality of work, and who exemplify the hard work, determination and entrepreneurial leadership" that defines Firestone Building Products. Cole Roofing demonstrates a commitment to excellence that upholds Firestone's commercial roofing standards.
Cole Roofing has achieved this exclusive designation by meeting several requirements including quality of inspected jobs and volume of completed and warranted jobs. Recently the Baltimore area firm celebrated its 100th year in business. "We are delighted to have the recognition from Firestone again this year." said Bill Cole, President of Cole Roofing. "Our entire team is dedicated to consistent quality and a safe working environment. The award reflects that daily commitment."
Now in its 32nd year, the Master Contractor designation goes to just a few contractors from a network of more than 3,000 Firestone Licensed roofing contractors!
About Cole Roofing Company:
Founded in 1919, Cole Roofing Company is a full-service commercial roofing and sheet metal contractor. Operations include capabilities for large commercial roof jobs, a dedicated service department, a wall panel division and an aligned commercial solar group.