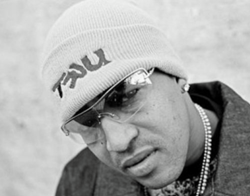 "One of my main jobs is to connect the dots and this connection between Cee, "B" and EWFNO is a home run! We're going hard in the paint on this one!" - Dre Smith, President of Dre Smith Agency / Dre Smith International
LOS ANGELES (PRWEB) January 18, 2019
A collaboration is underway between Legendary Rapper C-MURDER and alternative rock band EWFNO (Elliott Waits For No One) on a brand new song.
Hailing from the streets of New Orleans, C- Murder gained popularity and fame through his supergroup TRU. Cee Quickly gained his own Identity and dominated,
his hard core style and dark vibe are legendary.
EWFNO is comprised of Three main members BRIAN TROCH (Cyclone Temple, Shooting Hemlock, My Infected Soul), JENNY FRANCK (Black Crows, Beautiful Lies) and JEFF TORTORA (World Touring Blue Man Group, Shooting Hemlock, Tinnitus). Cee gave the green light for the project while talking to EWFNO member BRIAN TROCH "B", and band manager and label president ANDRE SMITH.
Dre Smith (Dre Smith Agency, Dre Smith International) has put together a crossover collaboration between these two entities that will shake the very foundation of the industry and is quoted as saying, "One of my main jobs is to connect the dots and this connection is a home run, we're going very hard in the paint on this one!"
Sessions are already underway at Vibehouse productions outside of Chicago with producer and engineer Jaben Pennell and also in California with producer and founder of Indie Pro Mix Michael James.
The end result should be nothing short of mind blowing, dark and spectacular!!!
To show your support for Cee go to http://www.newtralgroundz.com