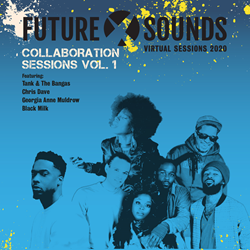 "I've been fortunate to have a solid career as an independent artist that started in my teenage years and has lasted through the present. Along the way, I've had strong support from my hometown of Detroit and my fellow independent artist community worldwide, so I'm always down and ready to give back
LOS ANGELES (PRWEB) June 05, 2020
"Collaboration Sessions Vol. I" EP and Virtual Release
Following the launch of Future x Sounds 2019 festival editions in Los Angeles, New York and Philadelphia, curated by Lalah Hathaway, Talib Kweli and James Poyser, the series partners with iconic artists that embrace the responsibility of their craft and lead by example.
With live events being cancelled in 2020 and due to recent events, Future x Sounds joins forces with Tank & The Bangas, Chris Dave, Georgia Anne Muldrow and Black Milk, as curators and producers to keep inspiring artists, fostering collaboration and supporting their communities in these times of need. Each will lead a group of peers to co-create a new original composition to be included in the "Collaboration Sessions Vol.I" EP to be released during a virtual edition of its signature concert series on June 14th.
VIDEO PROMO: https://youtu.be/RVbvzx5Zv70
Through a "Pay What You Can" system, donors get behind-the-scenes access to the creative process, livestream festival, and the completed album. Proceeds will be distributed to the music community and various organizations with guidance from EP producers and activists.
KICKSTARTER: https://www.kickstarter.com/projects/futurexsounds/future-x-sounds-virtual-sessions-2020-0
RADICAL DIALOGUES
While the artists collaborate on compositions for the album, Future x Sounds is hosting a series of workshops and conversations in the weeks leading up to the Virtual Release to reflect on how we can emerge from the pandemic crisis and recent escalation ef violence, individually and collectively as a community.
Artists, media, activists, and educators are invited to participate in Radical Dialogue sessions curated by Dr. Shamell Bell, an original member of Black Lives Matter. In collaboration with groundbreaking organizations such as Sanfoka, Shft, Ayana Therapy, Soteria and Trombone Shorty Foundation, these conversations seek to educate, recognize, and shift the spotlight onto local organizations and activists doing outstanding work to support their communities.
To further the conversation, Future X Sounds will publish a free toolkit specifically designed to be used, shared, and expanded beyond this event.
About Future x Sounds™
Future x Sounds™ is the result of a collaborative effort between a like-minded community of producers, promoters, curators and iconic artists across the country. Launched in 2019, the music and arts series provides iconic, award-winning, and socially conscious artists the opportunity to share their vision, shift the spotlight onto their talented peers and celebrate their communities.
Future x Sounds™ is an authentic window into a like-minded artistic global community that stands for the sounds of music and for the sounds of global change.
For more information on Future x Sounds, visit http://www.futurexsoundsfestival.com and follow Future x Sounds on Instagram, Twitter, Facebook, and Spotify.
MEDIA & PRESS CONTACT:
Asya Shein
asya@fusicology.com
(323) 988-2424 x. 701
PRESS KIT, ARTIST QUOTES AND ASSETS :
https://drive.google.com/drive/folders/10HoYuHi2edVkf1oFN8s7suLINaDINv4i?usp=sharing
#FuturexSounds #ShiftingTheSpotlight