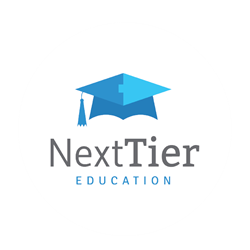 NextTier breaks college applications down into easily manageable segments; simplifying the process and reducing student and family anxiety.
Chicago, IL (PRWEB) August 27, 2015
This week NextTier Education submitted v3.2 of its mobile app for approval in the iTunes App Store. The ed-tech company expects its latest version to be available for mobile users early next week; in time to help millions of high school students embarking on the strenuous process of applying to college.
Through its set of web and mobile apps, available at no cost, NextTier aims to help students and parents navigate the college admissions process. From the National Association for College Admission Counseling (NACAC) 2014 State of College Admission, 81% of students are applying to at least three colleges and over 30% are applying to seven or more. The volume of tasks and the variation between different college's applications creates an extremely convoluted process. NextTier solves this problem by housing every task and every deadline required by every four-year college's application in one place -- over 200,000 data points for the 2015-2016 college application cycle. Students simply need to add colleges to their NextTier account and they are instantly presented with an organized and prioritized task list that guides them through the nuances specific to each college's application.
"Our platform helps students actually work through and complete college applications," Founder and CEO Justin Shiffman said. "It saves students time getting organized, keeps them on track, and informs them of what they need to do and when they need to do it.
"NextTier breaks college applications down into easily manageable segments; simplifying the process and reducing student and family anxiety. This allows students to focus on the quality, rather than the management, of their applications."
NextTier values a student-focused approach to empower students to be self-guided. However, the ed-tech company also recognizes the important role parents play in this process. Jeff Allen, Co-founder and Chief Product Officer, just completed the college application process as a parent for the second time. Allen's own frustrations with the college application process served as inspiration for the functionality NextTier offers parents.
"Other solutions don't open up enough space for parents to stay informed about their student's progress or what they're up against without prying," Allen said. "NextTier is designed to be a comfortable medium for parents to collaborate with, and support, their students."
With NextTier, parents can create an account of their own, connect with their student's account to view progress, and pass notes containing advice and encouragement. One of the major improvements this fall is giving parents and other Team Members, such as high school counselors, the ability to recommend colleges to their students.
Two other major improvements round out the latest version. The Notification Center has been added to the platform to send push notifications to all parties whenever a task needs attention, or when a team member recommends a school or sends a note.
The other is Phase Transitions. NextTier, so far, has focused on helping seniors complete college applications, but has started to advance toward assisting with the entire admissions process. Currently, students can begin using NextTier as juniors in high school. By Fall 2016 functionality will be added for underclassmen. Phase Transitions help students move fluidly from semester to semester of high school; introducing newly relevant tasks at each stage of the college admissions process.
To create an account students and parents can go to NextTier.com, and, also, download the mobile app from the iTunes App Store.