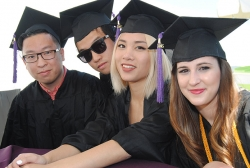 We have always known the value of an art and design education and have focused everything we do on student success ...
Los Angeles, CA (PRWEB) November 02, 2015
Otis College of Art and Design is ranked as the top college of art and design, and sixth overall, just after Harvard, in the top 1,275 colleges for best value in the nation, according to new research published by The Economist.
In a report published October 29, 2015, The Economist ranked colleges for the first time ever, using a compelling new methodology based on whether a college's alumni fare better than expected in the labor market, as measured by earnings ten years after graduation. Taking into account a range of variables and statistics - location, religious affiliation, public or private, SAT scores, the socioeconomic and racial mix of the student body, whether a college has a business school, and more - The Economist predicted what graduates would earn, comparing what students actually ended up earning, according to the U.S. Education Department's new College Scorecard. The results ranked a college by how much it exceeded the expected earnings.
"This is a pivotal moment for Otis College of Art and Design," said President Bruce W. Ferguson. "We have always known the value of an art and design education and have focused everything we do on student success, but to have recognition like this strengthens and confirms our convictions. We hope this information will elevate awareness on a national scale that the creative economy is a major force in the new world economy of the 21st century, where original ideas and creative thinkers are highly valued."
Since 2007, the annual Otis Report on the Creative Economy (Otis Report) has measured and assessed trends of creative fields. The report, commissioned by Otis College of Art and Design and generated by the Los Angeles County Economic Development Corporation, describes the economic impact of Los Angeles' creative industries and examines its role in the overall state business sector. The Otis Report has become a powerful tool for arts advocacy regionally and nationally. The 2014 report revealed that the arts contributed $80 billion to the region's total gross product and comprised 1 in 7 jobs.
"We're very excited to see The Economist's new ranking methodology, which finally seeks to recognize the real difference an undergraduate experience can make in transforming students' lives," said Randall Lavender, Provost at Otis College of Art and Design. "Many of our students are first-generation to attend college and are on financial aid, which makes this research highlighting their accomplishments even more significant. It's especially gratifying that this also comes at a time when we're expanding the facilities on the main campus in support of our proactive, success-focused programming. This complements other initiatives, including an emphasis on professional preparation, progressive academic and career advising, robust student services, critical thinking within studio curricula, and support for our distinguished faculty which all contribute to the distinction that this ranking recognizes."
As Otis College of Art and Design approaches its centennial, in 2018, a transformative campus expansion project is underway that will add 96,200 square feet of new building construction to its main campus including a new residence hall, a 300-seat forum for public programming, new labs and workshops, and an expanded academic wing.
ABOUT OTIS COLLEGE OF ART AND DESIGN
Established in 1918, Otis College of Art and Design is a national leader in art and design education. The College mission is to prepare diverse students of art and design to enrich our world through their creativity, skill, and vision. Alumni and faculty are Fulbright, MacArthur, and Guggenheim grant recipients, Oscar awardees, legendary costume designers, leaders of contemporary art movements, and design stars at Apple, Abercrombie & Fitch, Adobe, Pixar, DreamWorks, Mattel, Nike, and Disney.
Otis enrolls approximately 1,100 full-time students, and offers Bachelor of Fine Arts degrees in Architecture/Landscape/Interiors, Digital Media (Game and Entertainment Design, Animation, and Motion Design), Fashion Design, Communication Arts (Graphic Design, Illustration, and Advertising Design), Fine Arts (Painting, Photography, and Sculpture/New Genres), Product Design, and Toy Design. Otis also awards the Master of Fine Arts degree in Fine Arts, Graphic Design, Public Practice, and Writing.
The five-acre main campus is located on L.A.'s Westside near the beach and LAX; the Graduate Studios are in nearby Culver City, and in the 18th Street Arts Center in Santa Monica.
2,700 adults and children participate in Continuing Education art and design classes and workshops.
Additional information is available at http://www.otis.edu