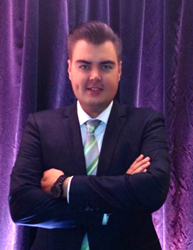 The facilities of the Miami campus were state-of-the-art, the instructors were friendly and helpful, and the curriculum absolutely gave me a great foundation for the work that I'm doing now.
Miami, FL (PRWEB) May 28, 2015
Brandon Norwick, a 2005 graduate of SAE Miami's Audio Technology Program, is celebrating his eighth year at Five-Star AudioVisual, a leading national provider of audio visual services for hospitality and corporate clients. Currently the Director of Audio Visual Services at the Balboa Bay Resort in Newport Beach, CA, Norwick's journeys with Five-Star have included positions at Hotel Irvine (Irvine, CA), Steamboat Grand Resort (Steamboat Springs CO), Canyons Resort/Hyatt Escala (Park City, UT), and The Resort at Pelican Hill (Newport Beach, CA).
"Brandon is an invaluable asset to our organization," says Dan Kantor, Vice President of Operations at Five-Star Audio Visual. "He consistently exceeds the expectations of our resort partners and their guests, and his leadership has helped to make Five-Star AudioVisual the Bentley of audiovisual firms."
A native of Santa Fe, NM, Norwick experimented with producing music using turntables, keyboards, and a two-track home recording set-up through his adolescent and teen years. After graduating from Santa Fe's Desert Academy High School in 2003, he looked at a number of top audio engineering colleges around the country and enrolled in SAE Miami's Audio Technology Program in 2004.
"I chose SAE Miami for a variety of reasons," says Norwick. "It was affordable, offered a concise program, included a MacBook with Pro Tools software with the tuition, had classes with no more than 20 students, and has an international presence, which increases employment opportunities for grads. The facilities of the Miami campus were state-of-the-art, the instructors were friendly and helpful, and the curriculum absolutely gave me a great foundation for the work that I'm doing now."
Norwick currently manages a team of five and is responsible for selling and executing show production services for Balboa Bay Resort. Along with producing excellent technical results, he also focuses on delivering operational efficiency, employee development, and profitability. Throughout his years at Five-Star, he's run the audio for events featuring American governors, mayors, past U.S. presidents, professional athletes, celebrities, top fashion companies, and multi-platinum selling recording artists who perform at corporate functions.
"I've hired four graduates of SAE's L.A. campus in the past year as full time paid employees," says Norwick. "The skill set of these grads is right up there with graduates who attend four year universities, junior colleges, and arts-focused institutes. I'm impressed with individuals who are ambitious and have a great attitude towards learning. They must have outgoing personalities and be effective communicators. Customer service plays a key role in our operational success, so everyone on my team needs to strive for perfection and deliver results that thrill our clients with every event that we produce."
About SAE
SAE Institute provides aspiring creative media professionals with a foundation of practical theory and valuable hands-on training in their chosen areas of concentration. Under the guidance of our faculty, which is comprised of working industry professionals, students gain the essential experience they need for entry-level jobs in the entertainment business. Our students are supported in their job searches by SAE's international network of alumni, many of whom are leaders in the music, film, game arts, and live performance arenas. We offer programs in audio technology across our seven US campuses, along with a music business program at select locations, all fully accredited and focused on preparing students for employment when they graduate. Bachelor's Degree programs in Animation, Audio, Film, Game Art & Graphic Design are available at the two locations of Ex'pression College, which is owned and operated by SAE Institute Group, Inc. SAE Institute Group, Inc. is a part of Navitas LTD. Learn more at USA.sae.edu.
About Navitas
Navitas is an Australian global education leader, providing pre-university and university programs, English language courses, migrant education and settlement services, creative media education, student recruitment, professional development, and corporate training services to more than 80,000 students across a network of over 100 colleges and campuses in 27 countries. Learn more at Navitas.com.