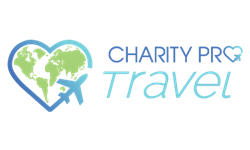 Students need quick access to affordable hotel rates and airfare
FORT MYER, Fla. (PRWEB) March 13, 2020
Charity Pro Travel, the popular online travel site that helps raise money for charities around the world, will offer deep discounts of up to 65% off published rates to all students, faculty and staff of any school that is closing due to the COVID19 pandemic.
"We understand that many students are scrambling for places to stay after college campuses have announced closings across the country," says Megan Maloney, Founder of Charity Pro Travel. "Students and staff need quick access to affordable hotel rates and airfare, we are here to help and make a difference while doing so."
Megan Maloney founded Charity Pro Travel at age 11, after losing family members to cancer. Now as a recent college graduate, she partnered with CEO Keith Hudson, father of pop star Katy Perry, to officially launch the company this past July. Every time you book a hotel, rental car or airfare, Charity Pro Travel donates 50% of the commission to the charity of your choice.
In addition to the lowest priced travel, Charity Pro Travel offers a "Members Only" deep discount hotel program for anyone that joins by making a donation to their favorite charity. "At this time, we are offering complimentary access to the members area to anyone affected by the campus closing, says Megan, this will give everyone the ability to receive discounts of up to 65% off the already lowest price. Nobody can match these prices, nobody, we are just blessed to be in a position to help, continues Megan, the country needs a little good news right now."
http://www.charityprotravel.com
Login with Username- support Password-mycampus