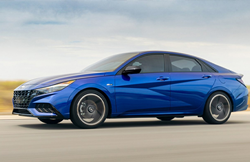 ARDMORE, Okla. (PRWEB) March 25, 2021
Carter County Hyundai, a Hyundai dealership in Ardmore, Oklahoma is participating in and promoting the Hyundai College Grad Program. Through this program, recent college graduates can qualify for a cash bonus toward the purchase or lease of a new Hyundai vehicle.
To qualify, a person must have graduated within the last two years or be due to graduate within six months. To prove this, students or graduates must provide a copy of their diploma or a letter from the registrar's office of their university or college affirming their recent graduation or upcoming graduation. Additionally, a student or graduate must provide proof of employment or an offer letter from an employer. Other terms and conditions apply.
The Hyundai College Graduate Program allows those qualified to claim a $400.00 bonus toward the lease or purchase of a new Hyundai vehicle. The program does not apply to used Hyundai models or other vehicles otherwise disqualified through participation in another program or condition. Only one offer per vehicle.
The program expires on March 31, 2021. A finance contract with Hyundai Motor Financing must be dated on or before this date to qualify. Customers must have graduated with an Associate's, Bachelor's or Master's degree from an accredited US college. Graduates of registered nursing school may apply as well.
For further details about the Hyundai College Graduate Program, or other information about new Hyundai vehicles, shoppers are encouraged to contact the Carter County Hyundai dealership through the chat function on its website, by phone at (580) 319-4949 or in-person at the dealership location, 616 Holiday Drive, Ardmore, Oklahoma, 73401.