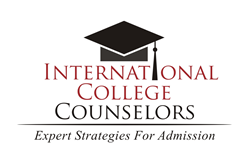 High school juniors and even sophomores are highly encouraged to attend at least one college fair.
Miami, FL (PRWEB) October 22, 2014
College fairs are a great way for high school students and their parents to meet with representatives from various colleges and universities around the country. This is often a student's first contact with a college, and it is advantageous to make the most out of a college fair experience. Currently the National Association for College Admissions Counseling (NACAC) is holding a number of college fairs each week.
Here are some tips from International College Counselors on attending a college fair:
Make a list. Before going to the fair, find out which colleges will be at the fair (a list may be posted on the fair's website) and write down the names of 10-12 top choice schools to learn about. Visit those representatives first. If there is extra time, check out some of the other booths. There are usually many great colleges to discover. Focus primarily on schools that are more than two hours from home. Colleges and universities that are closer can be visited in person.
Do research. Students should visit the websites of the top colleges on their list and learn as much general information as possible. With this knowledge, they can ask more in-depth questions when talking to college representatives.
Create a set of labels. Most colleges will have an inquiry form to fill out. This will place the student on the college mailing list and also record the visit to the booth. Bringing along self-stick labels to place on the cards can save a lot of time. The labels should include contact information, e-mail address, birthday, high school graduation date, GPA, and areas of interest. Email addresses need to be appropriate.
Sign in. If there is no inquiry card, sign in at the school's table. Students get extra points from a school for demonstrating interest. Signing in lets the college know that an event was attended and that a student was interested enough to stop by. Use legible handwriting, the same name spelling used on the college application, and the same email address that will be used for all college admissions correspondence. If the same name and address are not used, the college may "credit" the college fair visit to another person.
Dress for success. Dress in a manner that suggests seriousness and taking the event seriously. It's about putting one's best foot forward and showing respect, enthusiasm, and interest. Clothes need to be neat, not as if one fell out of bed and into yesterday's clothes.
Arrive early. Students are easier to remember if they are not the 300th person a representative meets.
Act like a professional. During the encounter, students want to be professional, engaging, positive and enthusiastic at all times. Smile. Look the representative in the eye. Make a proper introduction. Avoid giving yes or no answers. Ask for the business card or the name of each admissions representative met.
Pass out your resume. Handing out a high school resume at college fairs will show college representatives that the student is a go-getter. The resume will allow the representatives to see what kind of a student they are meeting and allow them to take it back to their college admissions office for review.
Ask thoughtful questions. To avoid being another face in the crowd, students should ask two or three specific questions that call attention to their specific interests about a particular college. Good questions include: "What is the personality of this college as you've experienced it? What kind of student is happy here? What are some of the best features of the school?" Stay away from questions with answers that can easily be found on the website or in the catalog. Also stay away from questions that can be answered "Yes" or "No." Try to think like a journalist looking for answers. If others are waiting to talk to the rep, keep the conversation short. This is not the time to discuss personal circumstances.
Stay organized. After the fair (or even before it) make a folder for each school of interest. On the folder write down the date and location of the college fair, and the names and contact info of the representatives met. Put any brochures or other printed materials received into the folder. Toss out materials from colleges that are ruled out so focus can be kept on the top college choices.
Do more research on preferred schools. Explore websites, contact the admission office and-or plan a campus visit. If there is sustained enthusiasm about the college, it may be time to visit in person.
Follow up. If there is an alumni interview or further contact with the admissions office of a school, a student should mention that they attended the college fair and remind the admissions representative of something spoken about at the event.
"High school juniors and even sophomores are highly encouraged to attend at least one college fair. Meeting with the admissions representatives and seeing all the options can be a real eye-opener," said Mandee Heller Adler, founder and CEO of International College Counselors.
High school counselors can offer information on upcoming local college fairs. To find out the dates for the national college fairs, visit http://nacacnet.org.
About International College Counselors
Last year, college advisors at International College Counselors helped more than 300 students find, apply to, and gain acceptance into the college of their dreams. The expert college counselors at International College Counselors are dedicated to helping students and their families successfully navigate the college application process.
For more information on International College Counselors or to contact an expert college counselor, please visit http://www.internationalcollegecounselors.com.