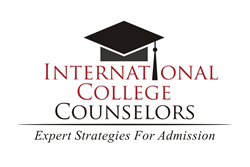 There is a school out there for everyone no matter what scores, grades and interests they have.
Miami, Fla (PRWEB) November 30, 2014
For most students, choosing a college is the most important decision of their lives so far. Making a college list can help ease this decision and keep the college application process organized and manageable.
"Don't panic," said Mandee Heller Adler of International College Counselors. "There is a school out there for everyone no matter what scores, grades and interests they have."
Here's how to start putting a college list together:
Step One: Do a Preliminary College Search
Hop on the Internet. Get familiar with the colleges and universities that are out there. Look at colleges that sound interesting. Type the word "college" into a search engine and pick a city.
Type in "college" with different words, like "warm weather," "geekiest," "friendliest," or "sports enthusiasts." If something looks interesting, take a deeper look. Find out more about colleges mentioned by friends, parents, teachers, or coaches. Attend college fairs and meet college reps who visit the high school. There are also college search websites like Princeton Review and College Board. Investigate at least three or four colleges that are not familiar to you.
Step Two: Make a List Of What The College Must Have
Write down the top five things a college must have. These are the deal-breakers. If a college doesn't have these five things, cross it off the list. One of those deal-breakers should be the choice of major. If robotics is a desired career path, it's going to be very hard to explore the possibilities if the school has no resources. Then make another list of the five things "I wish the college has." This list will help weed down the list, but don't use it to cross off schools yet. There's more research to be done.
Step Three: Do In-Depth Research
Hop online again. Scour the official website of all colleges of interest. Look beyond the obvious facts like campus size, location, courses of study, and degree programs. Investigate campus activities, study-abroad programs, student organizations, special programs, etc. College experiences differ greatly. Have questions and can't find the answers online? Call/ Email the school. Do not cross off any college because of cost. Many colleges offer financial aid, scholarships, and other help that make them far more affordable than they first appear.
Step Four: Get a Second/Third/Fourth/etc. Opinion
Talk to your college counselor. Talk with trusted family, friends, teachers, and mentors. Talk to alumni. On most college websites, you can find information on the alumni association. Be creative. Search the Internet for college-specific phrases in quotes, like, "I graduated from Northeastern," or "Since graduating from FSU." See what former and current students have to say. Check out ranking sites like Rate My Professors where the rankings are based on student reviews.
Step Five: Visit Schools
If possible, visit at least three schools before senior year starts. The Internet is no substitute for an actual college visit.
Step Six: Create a College List
Begin the senior year with a list of eight to ten colleges of interest. Don't believe that there is one school in the world that is the perfect one. Oftentimes students "compromise" and go to schools that are not their first choice. Many of these students end up absolutely loving that school. Other students attend another school and then transfer. Reach for dreams and apply to a few "reach schools." Also make sure the final college list has one or two safety schools on it. These are colleges to which a student is almost absolutely certain he or she will be admitted. As importantly, there shouldn't be any schools on the list that a student would not be happy to attend.
International College Counselors works with students from all over the world to help them reach their college and graduate school goals. The expert college advisors help students and their families reduce stress and successfully navigate the college application process through a personalized, one-on-one approach. For more information on International College Counselors or to contact an expert educational consultant, please call 954 414-9986 or visit http://www.internationalcollegecounselors.com.