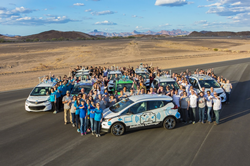 At its core, AutoDrive integrates safety and social responsibility in a changing environment of mobility over the course of three years.
WARRENDALE, Pa. (PRWEB) May 23, 2019
Mcity will be the site of the Year 2 Competition of the AutoDrive Challenge™, which is hosted and presented by SAE International® and General Motors.
The Year 2 Competition will be held May 29 – June 4, 2019, at the Mcity Test Facility, a purpose-built proving ground for connected and automated vehicles and technologies located at the University of Michigan in Ann Arbor.
SAE International and General Motors have partnered on the AutoDrive Challenge, which is a unique Collegiate Design Series program for university students. It allows those students to participate in hands-on autonomous development and learning while using leading-edge technology. At its core, AutoDrive integrates safety and social responsibility in a changing environment of mobility over the course of three years.
Throughout the three years, competition students focus on autonomous technologies and allow for modification, integration of sensors and controlled testing. They work with real-world applications of sensing technologies, computing platforms, software design implementation and advanced computation methods such as computer vision, pattern recognition, machine learning, artificial intelligence, sensor fusion and autonomous vehicle controls. The competition also allows students to explore their role in the changing ecosystem of mobility and the challenges autonomous technology brings with it.

Year 1 (2017 – 2018) focused on teams' concept selection by having them become familiar with sensing and computation software. They were tasked with completion of a concept design written paper as well as simple missions that they tested and evaluated. These simple missions included stop sign/line challenge, lane following, and object avoidance and detection. The Year 1 final competition was hosted at GM's Desert Proving Ground in Yuma, Arizona April 30 – May 5, 2018.
In Year 2 (2018 – 2019) the teams refine their concept selections into solid system developments and will have more challenging dynamic events for testing on-site, including dynamic object detection and multiple lane changing.
Year 3 (2019 – 2020) will culminate university teams' three-year efforts with final validation of their design and concept refinement and will have them complete complex missions of testing onsite including higher speeds, turnabouts and moving object detection.
General Motors provided each team with a Chevrolet Bolt EV as the vehicle platform. Strategic partners and suppliers will aid the students in their technology development by providing an array of sensors and software. Throughout the AutoDrive Challenge™ competition cycle, students and faculty will be invited to attend technology-specific workshops to help them in their concept refinement and overall autonomous technical understanding.
AutoDrive Challenge™ will present awards to the top three teams in each judging category of the event, plus top three winners based on cumulative score for each year. These teams will receive a trophy/award and potential monetary reward for those awards that are sponsored. Additionally, the competition will offer specialty awards with varying criteria.
At Year 3's competition, awards will be presented to the top three teams based on cumulative scores from all year's competitions.
The Mcity Test Facility is operated by Mcity, a U-M-led, public-private R&D center that is leading the transition to a new world of connected and automated vehicles. Mcity brings together partners from industry, government, and academia to develop the foundation for an ecosystem of connected and automated vehicles for moving people and goods. Such a system has the potential to dramatically improve safety, sustainability, and accessibility.
SAE International is a global association committed to advancing mobility knowledge and solutions for the benefit of humanity. By engaging nearly 200,000 engineers, technical experts and volunteers, we connect and educate mobility professionals to enable safe, clean, and accessible mobility solutions. We act on two priorities: encouraging a lifetime of learning for mobility engineering professionals and setting the standards for industry engineering. We strive for a better world through the work of our philanthropic SAE Foundation, including programs award-winning programs like A World in Motion® and the Collegiate Design Series™.