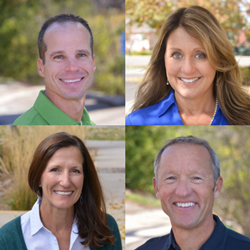 "Our primary goal at Colorado in Motion is just that, to keep our patients moving and enjoyingthat Colorado lifestyle. We look forward to providing these services, and even exceeding expectations, with the Confluent Health team."-- Colorado in Motion Ownership Team
LOUISVILLE, Ky. (PRWEB) December 16, 2020
Colorado in Motion, Northern Colorado's premier multisite physical therapy and occupational therapy practice, has announced a partnership with Confluent Health.
"Our primary goal at Colorado in Motion is just that, to keep our patients moving and enjoying that Colorado lifestyle," says Terry Gebhardt, PT, DPT, Susan Flynn, PT, DPT, Brenda Cummings, OTD, OTR, CHT, and Dr. Tim Flynn, PT, Ph.D., OCS, FAAOMPT, FAPTA and Chief Cultural Officer of Colorado In Motion in a joint statement. "Whether it's hiking, running the trails or cycling the Front Range, our patients come to us to get them back to their lives faster and healthier. We look forward to providing these services, and even exceeding expectations, with the Confluent Health team."
Services offered by the leading private physical therapy group include physical therapy (nonoperative and post-operative management of back, neck, and extremity disorders, arthritis, sports injuries, pelvic health, pediatric therapy, and neurological disorders), occupational therapy, specialized hand rehabilitation, post-stroke therapy, and full-spectrum industrial medicine services.
This partnership allows Colorado in Motion's seven offices and 50+ team members access to Confluent Health's shared service resources including talent acquisition, marketing and branding, finance tools, and expanded group purchasing. Team members will have greater access to Evidence in Motion's nationally recognized physical therapy education programs including residency, fellowship, certification programs and specialized training in pain management and dry needling.
"I have known Tim and Sue for over 35 years since we served together in the Army. Tim's career path has crossed military, research, academia, and private practice unlike any other PT in the country. He is a phenomenal leader in the evidence-first space, which is why Colorado in Motion has remained at the forefront of the physical therapy profession in regard to both patient empowerment and evidence-based interventions," says Confluent Health President and Chief Executive Officer Larry Benz, PT, DPT, OCS, MBA, MAPP. "We are excited to partner with them and are looking forward to exceeding the expectations of their Colorado communities together."
"Further, Confluent Health's unique ownership model has grown to include more professional therapist ownership than any company in the Confluent Family, and will be welcoming 14 new, local, Colorado In Motion employees and physical therapists into the partnership as owners," continued Benz.
The partnership pen's Confluent's signature as the country's largest number of physical and occupational therapist investor owners. Combining Confluent Health's shared management services with Colorado In Motion's culture and mission creates a strong match for continuing the best quality patient care, regional growth, and success.
For further information on Colorado in Motion, please visit http://www.ColoradoInMotion.com. To learn more about Confluent Health, please visit http://www.GoConfluent.com.
About Colorado in Motion:
Colorado in Motion offers a wide range of physical therapy services in the Northern Colorado region, serving the communities of Fort Collins, Loveland, Greeley, Johnstown, and Windsor. They placean intense focus on Evidenced-Based Practice and staying on the cutting edge of developments in health care. Their staff includes a wide range of experts in the non-operative management of orthopaedic conditions including neck and back pain, arthritis, and sports injuries. In addition, they provide specialty care in pediatrics, Parkinson's disease, neurological disorders, concussions, pelvic health, and balance and fall disorders. For more information, please visit http://www.ColoradoinMotion.com. You can also find Colorado In Motion on Facebook @ColoradoInMotion and Twitter @Coloradoinmotion
About Confluent Health:
Confluent Health is a Louisville, Kentucky-based holding company focused on creating a healthcare system that recognizes physical and occupational therapy providers as the Best First Choice for preventing and managing musculoskeletal and movement disorders. Confluent Health offers the following management services: evidencebased practice, patient loyalty, regulatory assurance, marketing and branding, clinic operations, hiring and retention, strategy, accounting and finance, and customer service to Advanced and Preferred Physical Therapy, Baton Rouge Physical Therapy-Lake, BreakThrough Physical Therapy, Capitol Physical Therapy, Confluent Physical Therapy, El Paso Physical Therapy Specialists, Mountain River Physical Therapy, OSPT, the Evidence In Motion family of companies, Fit For Work, Lake Center for Rehab, Rehab Therapy Works, Physical Therapy Central, ProActive Physical Therapy Specialists, Pappas | OPT Physical Therapy, ProRehab Physical Therapy, Redbud Physical Therapy, RET Physical Therapy Group, SporTherapy, Texas Physical Therapy Specialists, and TOSPT. Together, these companies share a common ownership team and are committed to developing a learning, purpose, and coaching culture.