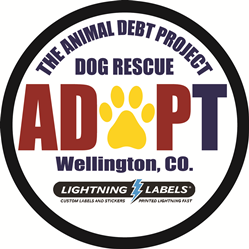 We already have been using the stickers on our personal/work computers, tablets andwater bottles. I gave one to our neighbors, whose two dogs we recently saved. The largest audience will be our high school and middle school students, with their water bottles and electronics.
DENVER (PRWEB) May 27, 2020
The Animal Debt Project (ADP), a 501(c)(3) no-kill non-profit animal shelter based in Wellington, CO, has launched a grassroots branding campaign to heighten local awareness and interest. The five-year-old shelter is using labels donated by Denver custom label printer Lightning Labels to get more well-known throughout the local community and neighboring communities such as Fort Collins and Loveland.
Animal Debt Project also is seeking to expand awareness of the Shelter's adoption and fostering programs in other Colorado communities, including Greeley, Red Feather and La Porte and in Cheyenne, WY. In addition, there also are rescue partners across the country and in Mexico for whom the labels will serve as a timely reminder of the Animal Debt Project's ongoing efforts.
Ashley Raymer, Shelter Manager/Volunteer Coordinator, notes: "While we've been around since 2015, there is still much untapped talent to do everything from adopting and fostering to volunteering and sponsoring. We're always looking for and grateful to have help caring for the animals and managing the 10-acre property—which, to put it mildly, is a handful!"
That handful is made even more challenging by the fact that ADP has established a very robust and active network of rescue partners. Besides being licensed to accommodate 55 dogs, the Shelter also is permanently housing a 200-pound domesticated pig, a duck and two ducklings and two cats.
Raymer adds, "We already have been using the stickers on our personal/work computers, tablets and
water bottles. One is also on our transport van. I have given one to each of our new fosters. I gave one to our neighbors, whose two dogs we recently saved. The largest audience will be our high school and middle school students, with their water bottles and electronics. I will also provide one to each of our adopters."
Expanded awareness and interest is crucial, according to Raymer. Notes Raymer, "Three of us volunteer here and gain income from part-time jobs elsewhere. That is a lot for three people. Thankfully, others have stepped up to the plate as well. A teacher at the Poudre Community Academy, an alternative Fort Collins high school, initiated a program where a group of about a dozen students come out every Wednesday for several hours to work with the dogs, help clean up the property, learn to drive the tractor, prepare for transports, and the like."
She adds, "This program in particular is probably in the top three of the most beautiful and meaningful experiences of my life. Some of these students come from traumatic backgrounds, may not fit in, have a learning disability etc. The way that they relate to these animals, the correlation throughout the school year, is amazing. The dogs get such amazing socialization on a consistent basis. We have had a few students adopt a dog they were working with!"
They're also working with Wellington Middle School on an animal abandonment project, Weld Humane Society, and Larimer Humane Society, and just became members of the Wellington Chamber of Commerce.
Raymer says she's hoping for the day when there's enough help so that she can focus on grant applications, fundraisers and other money-generating efforts. She looks forward to expanding on the work of original founders Edie Messick and Jeff Myers, who formerly were involved with personal animal rescue in the San Francisco area.
Speaking of California, Darla was the first canine beneficiary of the work done by ADP—and has become a beacon of the continuing efforts. Notes Raymer, "She was picked up off the streets in California with horrible mange and was severely malnourished. She has become 'Grandpa's' best friend. Grandpa, who is my best friend and Edie's father, doesn't even like dogs very much, but the two of them just work. She watches over him. And he feels a love like no other."
While animal rescue is undeniably full of traumatic, sad experiences, there are the smile-inspiring ones that more than make up for it, Raymer points out. "Alex was found chained up in Mexico. He was clinging to life. Our rescue partner literally just cut the chains and took him because he was just abandoned. The transformation of him was one of my most beautiful, heart-warming experiences."
As COVID-19 challenges have affected in-person adoption and other logistics of ADP's work, Raymer suggests first communicating about volunteering, sponsoring an animal, making a contribution, adopting or fostering through a phone call/text (970-515-3242), email (adp.ash83@gmail.com) or review of the website.
About Lightning Labels:
Lightning Labels uses state-of-the-art printing technology to provide affordable, full-color custom labels and custom stickers of all shapes and sizes. From small orders for individuals to the bulk needs of big businesses, Lightning Labels is equipped to handle and fulfill custom label and sticker projects of all types. Best of all, like the name implies, Lightning Labels provides a quick turnaround for every customer's labeling needs. Uses for Lightning Labels' custom product labels and custom stickers include food packaging and organic food labels, wine and beverage labels, bath and body labels, and nutraceutical products, such as vitamins, essentials oils, and herbal remedies, as well as event stickers, adhesive window stickers and more. Lightning Labels strongly supports the development of environmentally friendly printing materials and carries Biostone, a green label material made from stone paper is water resistant and inherently strong and durable. While operating as a high-tech printer, Lightning Labels prides itself on its personalized customer service. Lightning Labels provides one stop shopping for all of your custom label needs. For more information and to place orders online, visit LightningLabels.com. For the latest in packaging news and labeling promotional offers, find Lightning Labels on Twitter (@LightningLabels), Facebook, Pinterest, and LinkedIn.