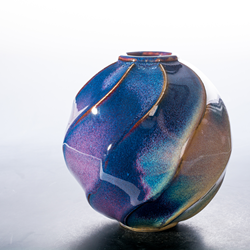 Through 3D printing and a bit of chemistry, we create unique pieces that bring something fresh to a timeless art process.
WESTMINSTER, Colo. (PRWEB) November 04, 2019
Hammerly Ceramics, a leading producer of functional, handmade, porcelain art will open their first retail storefront in Westminster, Colorado on Thursday, November 14, 2019. The store will feature ceramics pieces for sale in the working studio as well as future workshops and community events.
A native of Westminster, Curt Hammerly got his start in pottery after a severe bicycle accident in 2012 left him with a broken neck. Without the ability to enjoy even slightly strenuous activities, he decided to take a class at the Boulder Potters' Guild. Finding himself thinking about, and sketching, pottery regularly, he decided to continue taking classes over the next two years and began showcasing his work and processes on Instagram. With a following that has now grown to more than 134,000, and a thriving Etsy business, he recognized it was also time to move from a 140 square foot studio in his home to this 1,400 square foot studio and storefront.
"With a background in architectural design and fabrication, I enjoy finding ways to apply the technology I work with to the art I create," said Hammerly, "Through 3D printing and a bit of chemistry, we create unique pieces that bring something fresh to a timeless art process."
The processes of Hammerly Ceramics are innovative in the pottery world. Using 3D printing to create molds has led to creating actual ceramic pieces with a 3D clay printer. The open-studio concept is designed so that visitors can see the processes in action. "My hope is that this will change what people think you can do with clay and that by sharing our knowledge, other people can build upon what I'm doing and create even more interesting things in the future."
Hammerly Ceramics is located at 8127 W. 94th Ave., Broomfield, Colorado 80021. The grand opening celebration will begin at 3:00 PM on Thursday, November 14, 2019 with a ribbon cutting. Following the ribbon cutting, the studio will be open to the public with food and appetizers, raffles, and live demonstrations. Five percent of all sales during the event will be donated to The Arvada Center whose mission is to celebrate and elevate the human condition with engaging arts, humanities, education, and entertainment that expand the cultural landscape for everyone who visits.
For additional information about the event, contact hammerlyceramics@gmail.com.
####
Hammerly Ceramics creates one-of-a-kind, functional art pieces that can be found on nearly every continent. Founded in 2017, we focus on a unique combination of technology and art to bring innovation to an age old medium. Through shared techniques and open education, we strive to change how people think about, and interact with, pottery and the methodology behind it. Follow our journey on Instagram or purchase items through Etsy.