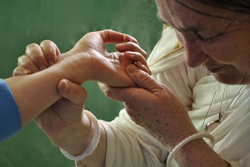 "I want to congratulate Alandi Ayurveda and Alakanda Ma for their dedicated community service. She is a highly skilled and respected practitioner in the Ayurveda community both nationally and internationally. The Front Range is fortunate to have her. " Kevin Casey, Banyan Botanicals CEO
BOULDER, Colo. (PRWEB) January 14, 2020
Alandi Ayurveda Clinic has been awarded a grant in the amount of $3,000 by the Ayurvedic lifestyle company, Banyan Botanicals. The award was announced this week as part of the company's first annual community grant program. The grant is designed to fund community projects that make Ayurveda more accessible to all people, including wellness consultations, daily self-care, yoga, herbal supplements, and healthy lifestyle coaching.
Alandi Ayurveda was founded in 1990 by Alakananda Ma and offers a sliding scale clinic in the Boulder, Colorado foothills, serving the Front Range community including residents living in Boulder, Denver, Fort Collins, Colorado Springs, and surrounding areas. The mission of the clinic is to provide Ayurvedic healthcare and herbal medicine at a reduced cost to the low-income community. They are a registered non-profit 501c3 and have been operating the sliding-scale clinic without any outside funding for close to 30 years.
The clinic will use the grant to support more people in the low-income community and will achieve this goal by implementing the following strategies:

Offering 25-75% discounts of Ayurvedic consultations for low-income residents
Offering reduced cost of at least 20% off personalized Ayurvedic herbal medicines
Banyan's CEO Kevin Casey said, "I want to congratulate Alandi Ayurveda and Alakanda Ma for their dedicated community service and for the energy they put into securing this grant. Supporting the good work that so many are already doing in their communities is precisely the sort of collaboration we had in mind when we created the Banyan Botanicals Community Grant Fund. The Front Range community is fortunate to have the wonderful services being offered by Ayurvedic Practitioner Alakanda Ma and her team. She is a highly skilled and respected practitioner in the Ayurveda community both nationally and internationally."
"We are very excited to be one of the recipients of Banyan's first community grants," said Alakananda Ma. "By receiving this grant, we can further our mission serving humanity through Ayurveda, by providing affordable care to the low-income population of the Front Range and beyond."
A sister science to yoga, with roots in ancient Indian wisdom, Ayurveda is one of the fastest-growing systems of complementary medicine in the United States.
About Banyan Botanicals
Banyan Botanicals, a Certified B Corporation, and Ayurvedic Lifestyle company, was born out of a love for the deep wisdom of Ayurveda and is driven by the mission to help people achieve and maintain optimal health and well-being. They offer sustainably sourced, fairly traded, and organic herbs and products, and they provide a library of educational content including videos, recipes, and articles. Banyan Botanicals was founded in 1996 and operates out of its offices in Albuquerque, NM, and Ashland, OR.
For more information about Banyan Botanicals' values and commitments visit banyanbotanicals.com.
For more information about Alandi Ayurveda and Ashram, visit http://ayurveda.alandiashram.org/.