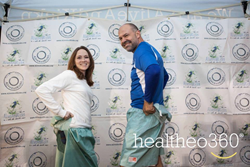 Camp Hill, PA (PRWEB) October 17, 2014
David Dubin is a two-time colon cancer survivor who has dedicated his time, sweat, and soccer skills to advocate for colorectal cancer awareness through his foundation, AliveAndKickn. He knows that approximately 5% of Americans will be diagnosed with colorectal cancer in their lifetime, and that colon cancer is the second leading cause of cancer deaths in the US. His not-for-profit organization's goal is to increase awareness, and promote regular screenings and early detection using a unique medium, soccer.
AliveAndKickn held their main event, the third annual AliveAndKickathon, last Friday, October 10th in North New Jersey which included a Soccer Tournament, Bubble Soccer and a Get Your Rear in Gear® Blue Moon Glow Fun Run/Walk in partnership with the Colon Cancer Coalition. The AliveAndKickathon events use soccer to reach a broad community of athletes, parents, and soccer enthusiasts to help spread the word about early screening for colorectal cancer. This year's event has raised almost $25,000 with donations still coming in. Successful events like these require help, so AliveAndKickn often reaches out to the medical community for support.
David contacted GI Supply, a specialty endoscopic products company, after seeing their MoonPants® on social media. "MoonPants are disposable shorts designed to preserve a patient's modesty while undergoing procedures that require access to their backside, like colonoscopies," says Caitlin D'Entremont, Director of Marketing & Communications at GI Supply, "They have a flap in the back with adhesive tabs for easy opening and closing. David thought it would be a fun, informative give-away for the Welcome bags at the AliveAndKickathon and we agreed!" GI Supply also donated "Should I be screened?" cards, a list of risk factors and facts on colon cancer screening, written by the company's founder, Frank Jackson, MD.
David is proud of the event and those that participated. "AliveAndKickn is attempting to reach an audience that isn't necessarily thinking about colon cancer, genetics or Cancer overall - under 50, women as well as men and multiple ethnicities. We see soccer and partnerships with companies doing innovative work as perfect partners for reaching that audience." Check out AliveAndKickn.org for upcoming events and information on how you can get involved.
About AliveAndKickn
AliveAndKickn (http://www.aliveandkickn.org/) believes that increased awareness can save lives. They believe that more people need to know that regular screening and early detection can prevent colon cancer. They believe that AliveAndKickn can make a difference in colon and genetic colon cancer.
About GI Supply
GI Supply (http://www.gi-supply.com/) designs simply smarter GI products, built by physicians for physicians. The company was founded 25 years ago by Dr. Frank Jackson, a gastroenterologist and entrepreneur. He partnered with other GI physicians, nurses, and practitioners to create simple, smart, just-works-how-it-should products. Products that are safer, more efficient, and more effective for doctor and patient alike. 25 years later, GI Supply builds on that same mission every day.