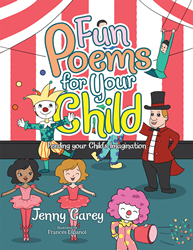 LOUGHBOROUGH, England (PRWEB) May 18, 2021
Jenny Carey has published her debut children's book "Fun Poems for Your Child: Feeding Your Child's Imagination" featuring diverse characters and entertaining poems that will spark the reader's imagination. As a nurse, Carey began writing poems when she was training throughout her medical placements. She witnessed the joy the poems brought to the patients and wanted to expand to writing children's poetry.
Throughout this enchanting poetry book, readers will be able to follow along with the poems and discover different stories that include fairies, pirates and more fantasy themes. The book also includes everyday children's activities such as playing games at a friend's house and the park. These youthful poems will stimulate children's imagination, curiosity and development.
"I wrote this book based on my own childhood memories with the hopes that children will enjoy reading the book and will be encouraged to expand their imagination," said Carey.
"When you read these poems you'll see how much the author loves children and recalls the wonder of childhood. You will enjoy poems about the simple pleasures of play and the warm love of caring adults." —5-star Amazon reviewer
Ultimately, "Fun Poems for Your Child" is a great summer and year-round read for children that will both entertain them and inspire creativity. Children of all ethnicities will be able to relate to the diverse character represented throughout the book.
"Fun Poems for Your Child: Feeding Your Child's Imagination"
By Jenny Carey
ISBN: 9781664114869 (softcover); 9781664114852 (electronic)
Available at Amazon, Barnes & Noble and Xlibris
About the author
Jenny Carey is a first-time author and nurse from England. She received her nursing training from De Montfort University in Leicester, England. "Fun Poems for Your Child: Feeding Your Child's Imagination" is Carey's first children's book and was written to entertain children with fun stories inspired by her own childhood. She currently resides in Loughborough, England.
General Inquiries:
LAVIDGE – Phoenix
Meghan Bowman
480-306-6597
mbowman@lavidge.com