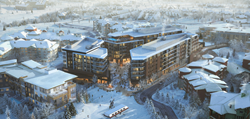 PARK CITY, Utah (PRWEB) June 25, 2019
Mosaic Real Estate Credit has provided Columbus Pacific with $165 million in construction financing for Pendry Park City, slated to debut in the Canyons Village in winter 2021. Pre-construction work has begun on the development with an official groundbreaking date slated for this summer.
Upon opening, Pendry Park City will revitalize Canyons Village with intimate gathering places and unparalleled experiences. The 233-key ski-in lift-out luxury resort will feature guestrooms and suites, along with 152-fully serviced residences ranging in size from 446-square-foot studios starting at $395,000 to spacious 2,600-square-foot four-bedroom penthouse residences up to $3.65 million. Complete with five restaurant concepts, a state-of-the-art fitness center and spa, more than 7,000 square feet of indoor meeting space, and 40,000 square feet of commercial space, Pendry Park City will be the social and cultural hub of Canyons Village.
The expansive 2.5-acre project quickly captured the attention of discerning buyers with an impressive $95 million in reservations to-date with a selection of residence types—studios to four-bedroom penthouse residences—reserved.
"We have been overwhelmed by the demand, and it has validated our theory as to what people were looking for in the market," said Brian Shirken, president, Columbus Pacific. "With our strategic location, luxury brand partner, and superior amenities, Pendry Park City is perfectly positioned to propel Canyons Village into its next generation."
"Columbus Pacific's business plan has been proven out with the success of the pre-sales," said Mosaic Real Estate Investors Senior Vice President, Credit Peter Pasqua. "Our financing allows Pendry Park City to become a best-in-class project that will anchor Canyon Village's overall master plan."
Mosaic's financing consists of a three-year senior construction loan with two 12-month extensions.
For more information about Columbus Pacific, please visit http://www.columbuspacific.com and for more information on Mosaic Real Estate Credit, please visit http://www.mosaicrei.com.
About Columbus Pacific
Columbus Pacific has completed over $2 billion of real estate investment and development over the past 20 years, and focuses on providing mindfully crafted living, shopping and gathering spaces across the continental U.S. The growing portfolio includes the iconic Kimball Arts Center, Apex Residences at the top of Canyons Village and the Viridian Townhomes on the fairway at the Canyons Golf Course, all in Park City, Utah. Columbus Pacific brings consistent, hands-on attention to detail, focus on exceptional properties, high quality construction and delivery, and devotion to current architectural design and market trends. http://www.columbuspacific.com.
About Mosaic Real Estate Credit and Mosaic Real Estate Investors:
Mosaic Real Estate Investors and its' debt platform, Mosiac Real Estate Credit was founded by industry veterans Ethan Penner and Vicky Schiff. Mosaic is focused on addressing unmet needs by providing creative bridge and construction debt capital to borrowers aiming to add value to their assets through development, redevelopment and repositioning. Mosaic's investments include first mortgage loans, as well as mezzanine or preferred equity structures. Mosaic has originated over $1.5B in transaction volume to date.
Columbus Pacific Media Contact:
Chrissy Bruchey, C&R, (310) 664-8888
chrissy(at)candrpr.com
Mosaic Real Estate Credit Media Contact:
Bruce Beck, DB&R Marketing Communications, Inc. (805) 777-7971
bruce(at)dprpr.com