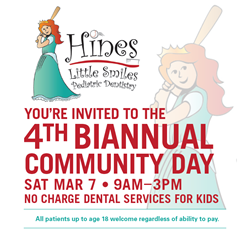 "We see a lot of new kids every year, which just hammers home the knowledge that we made the right choice for our community." - Dr. Mitzi Hines
COLUMBUS, Ohio (PRWEB) March 05, 2020
This Saturday, March 7, 2020, Hines Little Smiles will again step up to help ensure the oral health of uninsured or underinsured children from the Columbus, Ohio, area. The pediatric dental practice's fourth Biannual Community Day is expected to open at 9:00 AM and extend until 3:00 PM. Patients will be accepted in order of arrival, must be accompanied by a parent or legal guardian, and will receive basic dental services, including cleanings, fillings and extractions, free of charge.
Hines Little Smiles hosted their first Biannual Community Day in 2018, in response to rising dental care costs and an insurance system that was unable to provide support and care for children from low-income families. The event was met by enormous response from parents of children in the local community, and has since become a twice-yearly affair.
"Ohio has worked hard to make sure pediatric dental care is a priority," says Dr. Mitzi Hines, who opened the pediatric dental practice in 2009. "Statewide, we're meeting and beating our annual targets for reduced dental decay in children and increased access to dental care. However, at a recent board meeting for the KidSMILES Pediatric Dental Clinic I learned that children who need dental care, but cannot afford it, would fill up the Horseshoe (Ohio Stadium) 5 times over. That's over half a million children in Ohio alone who need care and aren't receiving it regularly."
Medicaid does cover some dental care for children, but this care is often insufficient, and reimbursed at levels far below the actual cost of care. "In 2018, we had to make a decision as a practice," says Dr. Hines. "We could keep trying to fight with Medicaid about coverage for biannual maintenance cleanings and other preventive children's dentistry, or put that time, energy, and budget into providing a higher level of care that is still completely free for underinsured children in our community."
Dr. Hines says the turnout at each free, walk-in community event, held twice a year, has been outstanding. "We see a lot of new kids every year, which just hammers home the knowledge that we made the right choice for our community."
The free dental services provided during the event include standard cleanings, fillings, extractions, and more. (Treatments requiring general anesthesia cannot be provided.) Children will be seen on a first come, first serve basis, and all patients up to age 18 will be accepted regardless of their ability to pay.
"At Hines Little Smiles, our focus is on the children of our community," says Dr. Hines. "During our last event, we had 38 volunteers on site for 6 hours. In those 228 total volunteer hours, we were able to serve the needs of 47 children and dispensed nearly $25,000 worth of quality dental services. We can't wait for our fourth no-charge day, and plan to continue this biannual event. It's a solution that is working for our community's kids."
While reservations are not accepted in advance, potential patients and parents can RSVP on the Facebook event page.