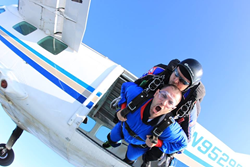 MIDDLETOWN, Ohio (PRWEB) July 18, 2018
Thursday, July 18, 2018 at 6am, combat injured Warriors and Fallen Hero families with descend over Start Skydiving in Middletown, OH. They will be tandem skydiving with members of the elite Team Fastrax™ professional skydiving team. There will also be a hot air balloon launch with honored warriors and a HUGE 7,800 sq. ft. American Flag demonstration jump.
All of this is a kickoff to the following Team Fastrax™ Warrior Weekend to Remember, which will include several days of both private and public events, July 18-22, 2018. Public events include the Bill Wilch Memorial 5k, a Hot Rod Happy Hour car show, a special ceremony honoring new Warriors and Gold Star families, and a silent auction. For more information, visit WarriorWTR.com.
Media interviews, photos, and video are encouraged. This media/public event will begin at 6:00 AM, is open to the public.
"Warrior Weekend has been a life changing event for both my family and I," said Sam Deeds, USMC Purple Heart recipient and Blue Skies Alumni Ambassador. "We are making a difference in the lives of not only the veterans and Gold Star families but the lives of everyone that is involved with Blue Skies, Team Fastrax™ and the Warrior Weekend."
"For me, Warrior Weekend has been a wonderful way for us to connect with other Gold Star families, and Warriors in a meaningful way," said John Prazynski, Gold Star Father of USMC Fallen Hero Taylor Prazynski, "The weekend brings us together and shows us we can still have fun in spite of our loss or traumatic experiences."
Also on hand, will be the owners from Grainworks Brewing Company. They will be tandem skydiving to show their support of the honored warriors and their partnership with BS3G via their special Hero Brew, sold at the Grainworks tap room in West Chester, OH, participating Ohio bars and local events.
ABOUT BS3G
Every Summer BS3G hosts over 50 Combat Injured Purple Hearts and Fallen Hero Gold Star Families for 4 days of bonding, healing and life-enriching adventurous fun activities in Southwest Ohio. This grassroots event called the Team Fastrax™ Warrior Weekend to Remember (TFXWWTR) has over 1,000 volunteers and enormous community support and is funded via BS3G. Hero Brew will be served to guests during TFXWWTR.
ABOUT GRAINWORKS BREWING COMPANY
Grainworks is located in West Chester Ohio and is built on the same soil from which Cincinnati's greatest breweries harvested their grain. Grainworks Brewing pours that rich history into every glass. It's beer with a heritage. It's beer with a soul.