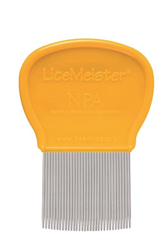 Camps that promote parental preparedness via screening for lice before camp are one giant step ahead.
NEWTON, Mass. (PRWEB) June 18, 2019
As children and teens dive into the summer camp season, the National Pediculosis Association (NPA) today encouraged parents, counselors, camp nurses and administrators to prevent head lice from interfering with even a minute of fun!
"Camps that promote parental preparedness via screening for lice before camp are one giant step ahead," said Deborah Altschuler, President of the NPA, a nonprofit organization advocating for children to arrive at camp lice and nit free.
"There are camp directors spending thousands of dollars checking children for pediculosis upon arrival without teaching parents how to comb their children for lice and nits at home. Parents can and should be first to detect infestations before sending children to camp. Those who know about screening for head lice with a lice comb will be able to identify and remove an infestation early before the task becomes unnecessarily challenging," she added.
Kosta Y. Mumcuoglu et al. summarized in Pediatric Dermatology that "diagnosis of louse infestation using a louse comb is four times more efficient than direct visual examination and twice as fast."
The NPA recommends its FDA cleared LiceMeister® head lice comb for accomplishing the NPA's mission to protect children from the risks of potentially toxic pesticide/chemical treatments marketed for kids with lice. While other quality combing tools are available, parents can anticipate that the effectiveness of lice combs will vary. See licemeister.com/meet-the-comb.
For 36 years, the NPA has been reaching out to health professionals, parents, schools, camps and entire communities to be informed, proactive and protective. Not only have NPA's awareness campaigns been instrumental in removing stigmas; they've revolutionized lice combs around the world and introduced parents to the realistic and practical health and wellness benefits of combing.
Parents can visit the organization's new website, LiceMeister.com for "video tutorials" to help parents avoid surprise notifications that their child is infested. Another video about combing is available on YouTube at youtube.com/watch?v=oYhAAKTStc4. CombFirst!
About the National Pediculosis Association
The National Pediculosis Association (NPA) is a 501(c) 3 nonprofit organization dedicated to setting the highest public health standards for children related to the communicability and treatment of head lice. The NPA is comprised of volunteers including its Scientific Advisory Board. As part of its mission, the NPA developed the LiceMeister® comb. All proceeds from the comb allow the NPA to maintain independence from product manufacturers and protect children from the misuse and abuse of pesticides for lice. For more information, please see LiceMeister.com and headlice.org.
Media should contact Dawn Ringel at 781-449-8456 or dawn(at)ringelpr(dot)com.