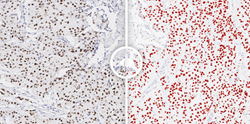 We are working closely with our Clients to extract not only more data from tissues and 3D cell culture models, but also to transform this data into meaningful insights that can be used in clinical studies to stratify patients for treatment or in earlier studies to quantitatively assess efficacy
WHITEHOUSE, N.J. (PRWEB) March 19, 2019
The AACR annual conference pulls together a diverse group of clinical and laboratory researchers and is a great opportunity to see the most cutting-edge cancer research. The Visikol team will be at the show at booth #3252 and will be highlighting their work with 3D cell culture assays as well as their digital pathology services. "For AACR this year we are highlighting specifically our immuno-oncology focused services as this is an area in which we assisted many of our Clients this past year. The combination of our advanced imaging tools with our 3Screen™ image analysis software and 3D in vitro assay services has allowed us to address complex research questions in this space that are challenging to address with traditional techniques," explained Visikol CSO Dr. Thomas Villani.
In 2018, Visikol launched its immune cell infiltration assay which leverages 3D tumor spheroids as well as Visikol's proprietary imaging technologies to provide a medium-throughput in vitro assay to assess pharmacokinetics in highly relevant in vitro models. Additionally, Visikol has developed several digital pathology tools for quantifying cancer specific endpoints from H&E and IHC slides such as tumor area or T cell penetration depth. "We are working closely with our Clients to extract not only more data from tissues and 3D cell culture models, but also to transform this data into meaningful insights that can be used in clinical studies to stratify patients for treatment or in earlier studies to quantitatively assess efficacy," described Visikol Director of Imaging Dr. Graeme Gardner.
To discuss your next in vitro or pathology project with Visikol, stop by and connect with the team at booth 3252.
About Visikol
Visikol is a CRO focused on advanced drug discovery that is leading the field of bio-imaging, bioinformatics and image analysis. We conduct end-to-end drug discovery services that include both 2D and 3D in vitro models and assays, 3D whole mount tissue imaging, digital pathology and custom drug discovery projects. Visikol offers a portfolio of drug discovery services ranging from 2D and 3D cell culture model and assay development to in vitro screening, animal tissue histology and automated image processing. The focus of these services is to transform tissues into images and ultimately into quantitative data sets that can be mined for actionable insights that help our Clients make more informed decisions during the drug discovery process. Additionally, Visikol manufactures and sells a suite of tissue clearing reagents and 3D immuno-labeling kits. These products allow researchers to easily and rapidly image whole tissues and 3D cell culture models in 3D instead of traditional 2D sectioning. For more information about Visikol or its services, please visit our website at visikol.com.