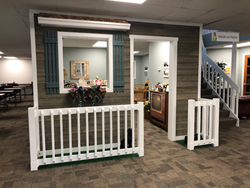 Our Hand's on Home embodies everything we believe about the importance of training. We want to ensure competence and confidence by providing each Comfort Keeper with a greater level of engagement and on-the-job training even before their first day of work
WESTERVILLE, Ohio (PRWEB) October 01, 2018
Comfort Keepers in Westerville, OH is proud to announce the launch of its new Hands On Home training facility, designed to help train, mentor, and equip their Comfort Keepers in the latest and most effective home care best practices.
The Hands On Home is a 400-square foot model home built inside of their 8,000 square foot office, that comes equipped with a kitchen, dining area, living room, bedroom and a real working laundry. Each room is filled with items a caregiver may see in a senior's typical living space. "Our Hand's on Home embodies everything we believe about the importance of training. We want to ensure competence and confidence by providing each Comfort Keeper with a greater level of engagement and on-the-job training even before their first day of work", said Tricia McConnell, owner of Comfort Keepers.
The goal of the Hands On Home facility is to create a realistic, hands-on training experience. Comfort Keeper trainees are able to learn how to best approach certain topics with seniors, handle a variety of scenarios, and quickly understand the needs of their clients. Framed tips and reminders are also featured throughout the home, holding such wisdom as "This is not cluttered, these are precious keepsakes collected through many years, just like a Museum I respect everyone" or "I will protect my client and call the office if I see valuables left out in the open"
Tricia McConnell has a Master's Degree in education and holds firmly to the old adage: Tell me…I forget; Show me…I remember; Involve me…I understand. She and Tim McConnell opened one of the first Comfort Keepers franchises in central Ohio in March 2000. Based on their own personal experiences caring for loved ones, they desired to create a team of reliable professionals to assist other families throughout Franklin County. Since then, their franchise has grown to over 230 employees. In addition to the Hands On Home, their training includes classroom teaching modules, videos, online learning, clinical learning and skills testing. Comfort Keepers of Westerville, OH strives to support seniors who wish to remain in the comfort of home by providing expertly trained caregivers, customizable care plans, and a variety of care options. Comfort Keepers of Westerville, OH is proud to be able to not only help your seniors age in place, but to thrive there as well.
About Comfort Keepers of Westerville, OH
Comfort Keepers of Westerville, OH provides home care to seniors throughout Delaware, Fairfield, Franklin, and Licking Counties. After caring for many family members throughout the years, Tricia and Tim McConnell felt they had finally found their calling. For almost two decades, they have served the area with reliable options such as personal care, housekeeping, and transportation. They also specialize in dementia and Alzheimer's care, as well as respite care. Comfort Keepers is a leader the home care industry and has a network of over 650 independently owned and operated locations worldwide in 47 U.S. states, Canada, Australia, New Zealand, Ireland, Singapore and Portugal.