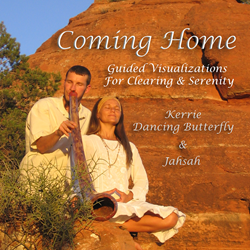 I have learned bits and pieces of these tools over the past 20 years; however, Anahata integrated them all so beautifully. Now I know how to practically use them in my life rather than just esoteric knowledge. -- Avani Sukhadia
Sedona, AZ (PRWEB) October 29, 2015
Coming Home – Guided Visualizations For Clearing & Serenity was first recorded by Anahata Ananda and Jasah in CD format in 2006 at Alchemy of Sound Studios in Sedona, AZ. In September 2015, it was re-released as a high-quality digital M4A file which can be purchased and downloaded online.
The recording is a series of relaxing, guided meditations voiced by Anahata Ananda, a Shamanic Healer who owns the Shamangelic Healing Center, also in Sedona, AZ. The recording includes an explanatory introduction and four separately focused meditation exercises that have a powerful, but subtle musical accompaniment by Sedona musician, Jahsah. Listeners are invited to use the guided visualizations to facilitate realignment of the physical, mental, emotional, spiritual, and light bodies. At the end of the recording is a music-only hidden track of Jahsah playing the Digeridoo.
All of the guided visualizations were developed and written by Anahata Ananda and are based on the foundational components of her healing arts practice. The first meditation track is focused on aligning the seven chakra energy centers. Anahata is respected as an expert practitioner and frequently utilizes chakra clearing with her clients as a way of regaining balance in their lives. Additionally, she offers an online course devoted to the study of the chakra system. By making available the digital download of Coming Home and the online course, her teachings and wisdom can now reach anyone in the world through the Internet.
The remaining three guided visualizations tap into many concepts found in Shamanic practices and studies. Symbolism and elements of the natural world are called upon to take listeners on journeys that support healing, empowerment and awareness. Nature, trees, and animal wisdom are the leading themes, and were specifically developed by Anahata based on the Shamanic Teachings she uses daily at her practice through private sessions, retreats, and land journeys for clients.
For anyone in search of a truly unique recording that can be used daily for personal growth, relaxation and grounding, Coming Home will be a refreshing addition to enhance a lifestyle of wellness.
Below please find the specifics of each track:
Track 1 | Introduction | 4:00
Conveys directions on how the listener should prepare themselves and their environment to enhance the benefits of the meditation experience. This includes a description of each visualization and how and when to use them.
Track 2 | Rainbow Light Body | 18:00
This is an experience that clears, energizes and aligns the 7 chakra energy centers of the body. The goal is to create a more radiant and balanced auric field which generates feelings of being peaceful and centered.
Track 3 | Surrender |15:00
This visualization takes a peaceful journey through nature where the listener is invited to surrender all that is weighing upon them so they may feel lighter, more integrated and supported by the universe.
Track 4 | Roots | 13:00
This journey provides a profound grounding experience that enables the listener to feel strong, rooted, confident, supported and balanced.
Track 5 | Animal Wisdom | 13:00
In this journey Mother Nature and the wisdom of the Animal Kingdom provide guidance. These vital messages will provide clarity on how to bring about harmony to difficult situations.
Anahata Ananda's Shamangelic Healing Center is based in Sedona, Arizona. It is nestled beneath Sedona's famous Thunder Mountain, with 360 degrees of breathtaking views, and within walking distance to a medicine wheel and healing vortexes, making it the perfect setting for healing and expansion. Clients seeking Spiritual awakening, transformational healing services, conscious relationship counseling, sacred land journeys or training courses may choose from a wide range of options that can be tailored for the ultimate personal experience.
For detailed descriptions and a calendar of the upcoming retreats, workshops, courses, and transformational healing and spiritual awakening services offered by Anahata Ananda, visit http://www.shamangelichealing.com