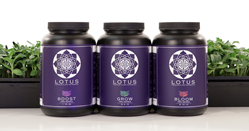 I tested LOTUS Nutrients in one of my rooms and was shocked to see over 2 inches of plant growth overnight!
SANTA ROSA, Calif. (PRWEB) May 09, 2019
As more and more states pass legislation legalizing cannabis and hemp, the commercial industry is growing incredibly rapidly. Multi-billion dollar deals are now a regular occurrence in the cannabis industry, and just last month, Christopher Carey of Bank of America predicted that the cannabis industry could one day reach $166 billion in annual sales, disrupting not only the alcohol and tobacco industries but even the health and wellness industry.
With cannabis cultivation moving from the black market to the stock market, commercial growers are adapting the skills they honed in their home grows to a large scale. Part of this process has been to evaluate their growing supplies to ensure they are as cost-effective as possible.
Liquid nutrients have reigned supreme in the home grow market for a long time, however growers in the commercial space have been transitioning to powdered nutrients because of the cost-effectiveness and ease of use. Due to the difficulty in combining essential macro and micronutrients, most nutrient companies package them separately, forcing a grower to buy as many as a dozen separate products in order to obtain all of the nutrients cannabis plants need throughout their lifecycle. Liquid nutrient programs can be complicated and bulky, due mostly to the abundance of plain water included in every mix. A new powdered nutrient company out of Santa Rosa, CA, Lotus Nutrients, is leading the way for this shift. Lotus Nutrients blends all the essential nutrients into a simple three-part system formulated by medical growers and specifically designed for medicinal plants. Their water-soluble powdered nutrients are quickly becoming a preferred choice for commercial agriculture and a great solution for new growers, and work in both hydroponic and soil growth environments.
Lotus Pro Series Nutrients feature a simplified 3-part powder-based formula that promises to outperform any 8, 9 or 10 part liquid recipe. The naturally formulated recipe is also dust free, 100 percent soluble, dye free and anti-caking, with no fillers.
"We worked tirelessly with an expert team of growers, scientists- - - and horticulturists to develop what is now known as Lotus Nutrients," said Rory Kagan, CEO of Lotus Premium Plant Nutrients. "Made using only the highest quality raw materials, Lotus provides everything your plants need to go from seed to harvest, yielding only the most impressive results."
From the makers of award-winning products Gorilla Grow Tent and Kind LED Grow Lights, Lotus Nutrients are manufactured and milled in western Canada. Ranging in price from $23.95 to $133.95 the Pro Series line includes:

LOTUS Pro Series Grow – aids in producing thick stems, tight internodal spacing, dense canopy development, and massive roots.
LOTUS Pro Series Bloom – designed to trigger rapid on-set of flowering by providing plants with all necessary components needed for strong development.
LOTUS Pro Series Boost – turbo-charged secret weapon that leads to unsurpassed size and density of flowers, while maximizing oil production for increased potency and taste.
LOTUS Pro Series Cal/Mag – the source of two of the most readily absorbed secondary nutrients.
LOTUS Pro Series Carboflush – designed to remove excess nutrient buildup, acts as a catalyst for flushing plants in their final stage of growth.
Available online and at hundreds of retailers nationwide, rave reviews are already coming in. "Lotus is killer! The Grow is phenomenal and the Bloom is so easy to use," said Kelly of Root Solutions Hydroponics of Lodi, CA. "I accidentally over-watered with my previous nutrient and burned my plants. I started using Lotus to see if I could save my crop. My plants went from tumbleweeds to having 5 inches of new growth within a week. Based on the easy application and amazing growth I saw, I will be stocking the entire line at my store."
A representative from Ohio Hydroponics reported, "I tested LOTUS Nutrients in one of my rooms and was shocked to see over 2 inches of plant growth overnight. I've since switched all of my rooms over to LOTUS and couldn't be happier with the results."
About LOTUS Premium Plant Nutrients.
Lotus Nutrients was scientifically developed by Northern California growers with decades of medicinal plant cultivation experience. Specifically formulated for medicinal plants and comprised of 15 unique raw, natural ingredients including 13 essential macro and microelements, Lotus Nutrients are 100 percent water-soluble formula milled and blended to provide perfect consistency while containing no binders, fillers or dyes. For more information or to purchase LOTUS Premium Plant Nutrients, please visit LotusNutrients.com.