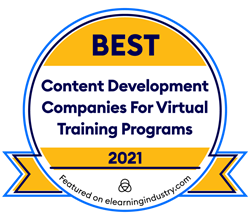 HYDERABAD, India (PRWEB) May 28, 2021
CommLab India, the global leader in offering rapid eLearning solutions for corporate training, has been ranked second among the top providers of virtual training solutions! This recognition by eLearning Industry is a testimony to CommLab India's constant endeavors to adapt to evolving training needs and offer its customers training solutions that are the need of the hour – with scale, speed, and quality.
Among others, eLearning Industry recommends virtual training for:

L&D leaders looking to rapidly shift to online learning (ILT to VILT)
Training managers wanting to replace a webinar with a virtual class
L&D professionals interested in blended learning
Training managers wanting to implement immersive learning
And CommLab India helps with all these, making it a true champion of virtual training!
When in-person classroom training came to a halt due to the pandemic, CommLab India expanded its repertoire of services to include the design and development of virtual instructor-led training (VILT) sessions. VILT helps organizations offer uninterrupted training that though online, takes care to include the human interaction that's so essential – specially for topics such as leadership training and onboarding. VILT also cuts down on the logistic hassles of organizing training in brick-and-mortar classrooms.
CommLab India draws on its teaching background and vast experience in instructional design to design VILT sessions from existing classroom training material. Apart from designing presentation decks, facilitator guides, and participant handouts, CommLab India designs online collaborative activities to take the place of those used in the physical classroom – activities for breakout rooms, annotations, worksheet exercises, and more.
CommLab India has been working on a wide range of VILT projects for its customers since last year, and can design:
Standalone VILT sessions from classroom material
VILT sessions as part of blended learning solutions
VILT and eLearning courses from classroom material
CommLab India designs instructionally-sound VILT presentation decks and collaboration activities based on the platform being used. The VILT materials are well-designed with visual cues, detailed instructions, and adhere to best practices. The solutions are a judicious mix of content and technology – form following function!
Here are three noteworthy virtual instructor-led training projects CommLab India has worked on. They prove the efficacy of VILT in handling different training topics for distinct employee groups.
Project 1: VILT as part of a Blended Learning Program for Managers
One of CommLab India's clients from the energy sector rolled out a blended learning program for its middle level managers across the organization. VILT was used in two phases in the blend – first, to teach; and second, to offer practice & collaboration. The first part used VILT primarily to facilitate knowledge transfer, supplying a very important element of leadership training – human interaction. In the second, VILT sessions were essentially activity-based with learners collaborating in breakout rooms, working on interactive PDFs, sharing outcomes in the main session, and more. CommLab India designed the material for both phases of VILT – for 5000 managers.
CommLab India developed the materials for 5 VILT sessions – both phases – within 45 days. The training materials included:
PowerPoint Presentations used in the session
Facilitator Guides (with detailed instructions on using the technology)
Participant Materials (worksheet activities)
Project 2: VILT followed by 'Ask the Expert' Sessions
For another client, a leading pharma company, CommLab India designed a blended learning program comprising self-study, a curriculum of eLearning courses, VILT, and 'Ask the Expert' sessions. eLearning courses formed the core of the learning, and each eLearning course was followed by a virtual discussion – where learners discussed critical elements under the guidance of an instructor.
These discussions served to clarify doubts and as starting points for the next course in the curriculum. Occasionally, there were virtual sessions with subject matter experts who shared anecdotes, best practices, tips and tricks, and important contextual details. These sessions helped learners recap key concepts and apply them to technical sections.
Project 3: VILT for Inclusivity Training
For a global provider of marketing solutions, CommLab India designed eLearning courses and VILT sessions from their classroom material on inclusivity training. While eLearning was used to facilitate knowledge transfer, VILT sessions enabled learners to meet in breakout rooms to discuss scenarios that could cause feelings of exclusion in various contexts and brainstorm how to avoid/deal with them.
This is what Shalini Merugu, Director – Learning Solutions, CommLab India, had to say on receiving the award from eLearning Industry. "We are witnessing a marked shift in corporate training for virtual solutions that offer effective, uninterrupted training. This award is a testimony to our ability to adapt and offer digital learning solutions that are relevant today. We are fully equipped to meet the growing need for VILT with our experienced pool of instructional designers, classroom trainers, and agile project management & streamlined conversion processes. We look forward to working on more exciting projects in the days to come."
About CommLab India:
CommLab India, with more than two decades' experience in the learning industry serving 100 International customers in 30+ countries, is one of the most sought-after global leaders for rapid eLearning solutions. It has been ranked first among top providers of Rapid eLearning for 2021 and Blended Learning Solutions for 2020 by eLearning Industry.
With its formidable authoring tool expertise and decades of experience in corporate training and instructional design, CommLab India offers rapid eLearning solutions for speed, scale, and value… with any authoring tool for:
Converting of ILT material into instructionally sound, visually appealing, engaging eLearning curriculums, virtual sessions, and other digital learning formats
Converting legacy courses (from Flash or any other authoring tool) to HTML5, even when source files are not available
Translating English eLearning courses into 35 international languages – both text and audio