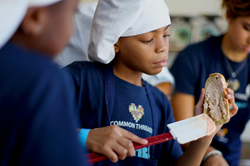 One in three children stepping into our country's classrooms are faced with being obese or overweight, putting them at risk for diabetes and other diet-related disease.
AUSTIN, Texas (PRWEB) September 24, 2018
As children and families across the country are stocking up on supplies and heading back to school, it is important to remember that good nutrition is imperative to help fuel kids' minds and bodies as they maneuver another year of academics and school activities. One in three children stepping into our country's classrooms are faced with being obese or overweight, putting them at risk for diabetes and other diet-related disease. Compounding this problem is the food insecurity confronting 12.3% of U.S. households, posing a threat to the health and academic achievement of millions of children.
Common Threads – a non-profit organization dedicated to bringing health and wellness to children, families and communities through hands-on cooking and nutrition education to all children across the country — is gearing up to combat the childhood nutrition crisis with its free online resources and in-school programming, offering hands-on programs designed to promote lifelong healthy habits.
Accessible from any desktop, Common Bytes equips families and educators across the country with the tools needed to offer online nutrition education to pre-K through eighth grade students. To join the online community, website visitors are encouraged to register as a student, teacher or parent to customize their experience, earn points and access content tailored to the individual user. Once online, visitors will have access to healthy recipes (including SNAP-certified options), nutritional information, how-to and educational videos, interactive games, pre-K through eighth grade lesson plans and other resources.
"Children are empowered to be agents of change for healthier families, schools and communities across the country through our programs. Common Bytes supports our current programming and substantially extends our reach," said Linda Novick O'Keefe, Common Threads' Co-founding CEO. "Now, not only can children in Common Threads programs continue to learn about nutrition, but wellness advocates and aspiring kid-chefs across the country can access our research-based tools and resources."
In addition to the online platform, Common Threads partners with community organizations and schools in Austin, Dallas, Fort Worth, El Paso, Houston, San Antonio, Jacksonville, Los Angeles, Chicago, New York, Miami, Washington D.C. and Pittsburgh to administer its signature programs.
A recent evaluation of Common Thread's Small Bites program during the Society for Nutrition Education and Behavior meeting in Washington, DC showed that it significantly increased the number of students who answered nutrition knowledge questions correctly, eat a variety of vegetables at least once daily, and who show their families how to cook at home.
The Small Bites curriculum teaches children about nutrition and healthy cooking through a series of lessons combining math, language arts and science concepts with knife-free cooking. The lessons are aligned to National Health Education Standards and support Common Core State Standards Next Generation Science Standards. In 2017, Common Threads served 97,234 children. For the 2018-2019 school year, Common Threads expects to serve at least 100,000 children.
"The health disparities we see today are preventable, and we have seen that our approach helps children learn valuable lessons they can use to lead healthier lives," said O'Keefe. "Cooking is a fun, beautiful way to take care of ourselves and each other."
Common Threads continues to scale and grow its school year programing with the support of generous contributors who share their passion for making America's children healthier. For every $25 donation, one child can participate in a Common Threads program.
For more information or to donate, please visit http://www.commonthreads.org/backtoschool. Follow Common Threads on Instagram, Facebook and Twitter too!
ABOUT COMMON THREADS:
Founded in 2003 in Chicago, Common Threads was created to bring health and wellness to children, families and communities through cooking and nutrition education. By integrating preventative health programs into school districts and community organizations, Common Threads not only helps combat the rising number of diet-related diseases, but also cultivates a culture that embraces a healthier lifestyle and celebrates diversity through food. The organization envisions a community of learners that embraces healthy cooking, healthy eating and healthy living as both a life choice and a human right.
Common Threads currently operates in 14 major cities including Austin, TX; Chicago, IL; Dallas, TX; El Paso, TX; Fort Worth, TX; Houston, TX; Jacksonville, FL; Los Angeles, CA; Miami, FL; New Orleans, LA; New York City, NY; Pittsburgh, PA; San Antonio, TX and Washington D.C. During the 2016-17 school year and summer, it provided hands-on cooking skills to more than 118,000 students, worked with over 750 schools and partner sites and served nearly 800,000 healthy meals and snacks.
To learn more, visit http://www.commonthreads.org.