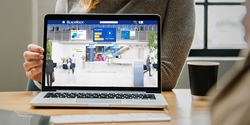 Creating audience engagement and sense of community is invaluable in securing sponsors and attendees' commitment and active engagement
BETHESDA, Md. (PRWEB) March 05, 2020
Communique Conferencing, Inc., a global leader in Virtual Conferences, recently published a How to Guide for changing a physical Event to a virtual conference.
Highlights from the Virtual Conference guide include:

How long does it take to set up a virtual conference?
What are the benefits of changing to a virtual conference that event hosts can communicate to attendees and sponsors?
What is the process to switch a physical event to a virtual conference?
How to choose a virtual conference provider
Most of the work that goes into planning and executing a bricks-and-mortar conference is the same with hosting a virtual conference. The goals, speakers/topics, sponsors, registration, and attendee promoting activities are essentially the same. The difference is the venue to deliver the event (online vs. a hotel or other physical space).
"We continue to find ways to collect insights and drive deeper connections that our customers can immediately act upon," said Deirdre Begley, VP of Communique Conferencing. "For example, creating audience engagement and sense of community is invaluable in securing sponsors and attendees' commitment and active engagement."
Learn more about how to change a physical conference to a virtual conference in the complete report.
About Communique Conferencing
Communique Conferencing, Inc. provides reliable virtual conference solutions to mid-sized businesses and the world's leading enterprises. Our rock-solid technology is backed by superior customer support that is available on a live 24x7x365 basis. Communique Conferencing has a global reach extending to North America, South America, the United Kingdom, Ireland, France, Germany, Australia, India, Hong Kong, Singapore and Japan.
For more information on Communique's Virtual Conference Platform go to https://www.virtualtradeshowhosting.com/.