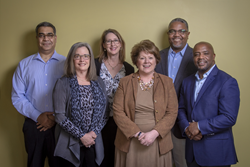 DECATUR, Ga. (PRWEB) February 14, 2019
Following the recent retirement of Community Housing Capital's (CHC) founding President and CEO, Jack Gilbert and Chief Financial Officer, Brent Lee, the company is pleased to announce its newly-named executive leadership team. Cindy Holler was selected as President and Chief Executive Officer and Arif Rizvi has joined CHC as Senior Vice President and Chief Financial Officer. Ms. Holler has created a dynamic team to lead CHC with the naming of Dana Chestnut, SVP/Chief Loan Officer; Alvin Saafir, SVP/ Chief Credit Officer; Debbie Campbell, SVP/Chief Communications Officer; and Debra Turner, SVP/ Chief Loan Administrator.
CHC is a national community development financial institution (CDFI) intermediary that efficiently leverages scarce grant resources to secure significant private-sector investments to make flexible loans to NeighborWorks® organizations for the development and preservation of affordable housing.
Together, CHC's new executive leadership team represents an extraordinary depth of knowledge and experience in affordable housing and related finance that positions CHC to respond effectively to the complex challenges and fast-changing environments facing both its borrowers and investors.
"As CHC builds upon its success in serving the affordable housing developers of the NeighborWorks network, we're strengthening our executive level infrastructure to support CHC's continued growth and strategic direction," said Cindy Holler, President and CEO of CHC. "The addition of our new CFO and promotion of our existing management team coincides with the readiness of CHC to grow and evolve its products and services in response to the nation's need to address the affordable housing crisis at scale, while ensuring the continuation of the strong internal processes that have driven our success since CHC's founding in 2000," added Holler.
CHC's model has been highly successful. Since inception, CHC has originated more than 462 loans totaling $729 million to 142 NeighborWorks organizations in 43 states, financing 18,768 units of affordable housing and facilitating more than $2.3 billion in real estate development.
"CHC is poised to provide an unparalleled level of financial and intellectual capital solutions to benefit the people and communities it endeavors to serve," said Paul Mazzarella, Chairman of the Board of Directors for CHC. As a board, we are passionate about the work CHC does and will continue to be actively engaged in the firm's future," added Mazzarella.
About Community Housing Capital
Community Housing Capital, a national Community Development Financial Institution intermediary, is a direct lender to the NeighborWorks® network. Incorporated in 2000, Community Housing Capital is certified as a community development financial institution and a community development entity by the U.S. Treasury's CDFI Fund. Lending to members of the NeighborWorks network, Community Housing Capital provides both interim real estate development loans and permanent multifamily loans with favorable rates and terms. Loans are underwritten with the flexibility required to finance complex transactions with multiple layers of subsidies. Community Housing Capital has, through its lending activity, created or preserved over 18,768 units of affordable housing and facilitated $2.3 billion in total development. Community Housing Capital is headquartered in Decatur, Georgia. For more information, visit Community Housing Capital's website.