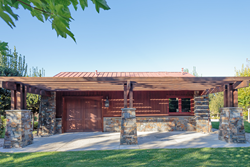 SAN LUIS OBISPO, Calif. (PRWEB) January 02, 2020
Three years after other California homeowners were granted the ability to add a second dwelling to their property, San Luis Obispo residents are expected to benefit from an upcoming change in local housing ordinances. Homeowners, builders and community members interested in learning about Accessory Dwelling Unit (ADU) opportunities in the new year are invited to a free informational session offered by architect Michael Smith on Jan. 15 at 6 p.m.
The event will take place at Smith's office at 890 Osos St., Suite E, San Luis Obispo, and cover topics such as the statewide law and expected updates to local ordinances, what an ADU or "granny flat" can consist of, accessibility issues and options for creating a new dwelling on your current property. Space is limited so pre-registration is encouraged.
"As our state continues to face a housing shortage, ADUs are a terrific option for both families and investors interested in expanding their current footprint," said Smith. "We look forward to sharing more details on the best options, regulations to pay attention to and exciting opportunities for home expansion in the San Luis Obispo area."
The Department of Housing and Community Development and government officials are asking for 3.5 million new homes to be built across the state by 2025 to address the affordable housing crisis.
A housing unit on the same lot as a single-family dwelling, an Accessory Dwelling Unit can be attached or detached. ADUs range from cottages to small houses; they are popular for advocates of "aging in place," since they can allow seniors to stay in their own place, close to a family member or friend who lives in the other unit.
While California Gov. Jerry Brown signed a law allowing homeowners to add a second dwelling unit to their properties in 2017, San Luis Obispo County did not adopt the state law. Recognizing the need for more affordable housing options, San Luis Obispo County is expected to change its ordinance in the first quarter of 2020. In the meantime, it will follow in accordance with the statewide law – leaving the door open for homeowners to add an ADU or granny flat.
Questions about the information session or accessory dwelling units can be addressed to mike@michaelsmitharchitect.com or 805-457-5440. Online registration is available at https://www.michaelsmitharchitect.com/adu/
About Michael Smith, Architect
A licensed architect for three decades, Michael Smith's expertise includes residential and commercial architecture projects. As a collaborative architect in San Luis Obispo, Smith specializes in Net Zero Energy design, turning a client's vision into a dream project and custom projects of all sizes. For more information, please visit https://www.michaelsmitharchitect.com/
For additional information, please contact: