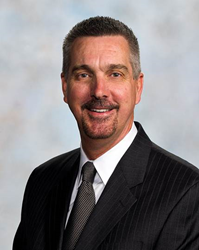 Community Choice blows the credit union norm out of the water. They dive into change when it means good things for their members
Farmington Hills, Mich. (PRWEB) December 18, 2014
After a national search encompassing three months and more than 100 applicants, Community Choice Credit Union is excited to announce the appointment of Alan Bergstrom as chief marketing officer.
Bergstrom is a United States Air Force intelligence officer turned branding expert who brings more than 20 years of experience leading consumer and business-to-business organizations to maximize brand potential. Past clients include Disney, General Motors and Visa, among many other Fortune 500 companies.
"During this period of rapid change and growth, consistency in our brand remains a paramount priority." said Robert Bava, President and CEO of Community Choice Credit Union. "Mr. Bergstrom will be a fearless brand leader, who brings a wealth of knowledge and experience from his work with many well-known global companies."
As chief marketing officer, Bergstrom will provide strategic and developmental leadership in marketing Community Choice Credit Union's variety of products and services. He will be responsible for analyzing industry trends and consumer behavior to develop robust marketing strategy that aligns the Credit Union's mission, vision and values and promotes continued growth.
"With each interview the senior executives' investment in this organization was clear—I could hear it in their answers, see it in their actions. They are poised to grow this credit union rapidly and responsibly," said Bergstrom. "Community Choice blows the credit union norm out of the water. They dive into change when it means good things for their members. That's a mentality I'm proud to join."
Bergstrom began his career as a Captain in the U.S. Air Force, where he served as the Daily Military Intelligence Briefer to President Ronald Regan. After seven years of service, Bergstrom left the military and was recruited by several companies in the national defense industry. He landed at Naisbitt Group (now FutureBrand) and applied his military background to provide companies business intelligence, analyzing data and monitoring trends to proactively grow and manage brands.
In 1995 Bergstrom founded The Brand Consultancy and in a span of seven years, grew the company into one of the top three strategy firms in the U.S. The firm generated $16M annually, with three offices nationally, 44 staff and a long list of Fortune 100 clients. There, he pioneered the now widely accepted concept of internal branding and assisted a broad variety of national and international clients with developing brand-leverage strategies focused on bottom-line performance improvements and category leadership.
On September 11, 2011, Bergstrom's life reached a turning point when, in New York for a client meeting, he was on the ground to see the second plane hit the World Trade Center.
"I had been on that exact flight just one month earlier," said Bergstrom. "I was practically living out of a suitcase, working day and night to grow the business and in that moment I realized my priorities were all out of line. I sold the business to my two partners and took two years off to spend time with family and reevaluate how I was living."
After returning to his roots in the Midwest, Bergstrom went on to serve as the director of brand and creative services at CUNA Mutual Group. There, he was responsible for managing and growing the TruStage brand, which is a portfolio of life, auto, home and health insurance products designed exclusively for members of America's Credit Unions. In just two years after launching the TruStage brand, Bergstrom and his team grew revenues by 36 percent, operating revenue by 12 percent, and increased the number of members protected by 7.5 percent (over 14 million members).
Bergstrom holds a Bachelor of Arts degree in political science and international economics from the University of Saint Thomas and a master's degree in international business from the Monterey Institute of International Studies.
About Community Choice Credit Union: Established in 1935, Community Choice Credit Union offers a wide variety of financial products and services for both consumers and businesses. Any individual who lives, works, or worships in the following counties is eligible to become a member of Community Choice Credit Union: Genesee, Lapeer, Livingston, Macomb, Oakland, St. Clair, Washtenaw or Wayne County, Michigan. Community Choice Credit Union is an equal opportunity lender and is federally insured by the National Credit Union Administration. Since 2008, Community Choice has invested more than $885,742 and 12,543 volunteer hours into its charitable Give Big efforts throughout Michigan. If you're looking for an experience that's truly different from your current banking relationship, Let's Get Together™. Community Choice Credit Union is proud to be a Detroit Free Press Top Workplace 2014. For more information, visit CommunityChoiceCU.com.