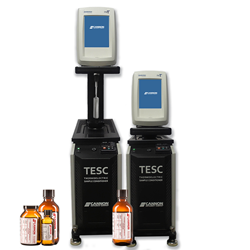 STATE COLLEGE, Pa. (PRWEB) September 30, 2020
CANNON Instrument Company introduces a new model to the CANNON TESC lineup – model TESC-5133. The compact, economical TESC-5133 (Thermoelectric Sample Conditioner System) integrates and automates the ASTM D5133 process of conditioning and testing low temperature viscosities of engine lubricants.
Incorporating a Brookfield® DV2T digital viscometer, with an easy lift system to simplify positioning of the viscometer head, and a thermoelectrically controlled sample chamber, the TESC-5133 automates the entire conditioning and testing process, recording sample temperatures and viscosities throughout the test then computing the temperature (Gelation Index Temperature) at which there is a rapid change in viscosity (Gelation Index).
Automated thermal conditioning of the TESC-5133, from preheating to cooling, lessens the hands-on time needed to prepare and run a D5133 test and improves test precision. Integrating all conditioning and testing processes in a self-contained unit eliminates the temperature fluctuation and variability in results associated with sample transfer and disruption.
The TESC-5133 is a cost effective, ultra-compact design with low energy consumption (only 320 W power). Its small footprint, nearly one half to one fourth that of the smallest alternative unit, conserves bench space and allows installation of multiple TESC systems providing redundancy and greater temperature versatility. The Peltier solid-state thermoelectric cooling is environmentally friendly and does not require the use of hazardous CFC refrigerants or flammable bath fluids. The enclosed insulated sample chamber provides a uniform, controlled temperature environment during the entire test. To place an order or learn more about the TESC-5133 and the complete TESC lineup visit https://cannoninstrument.com.
About CANNON Instrument Company
CANNON Instrument Company is a global leader in viscosity related products and services since 1938. CANNON offers a broad spectrum of high-quality, viscosity-related products and services including glass viscometers, viscosity standards, automated and semi-automated viscometers, and constant temperature baths. In addition, CANNON offers a variety of instruments for related physical property testing including densitometers, flash point testers, titrators, distillation testers, colorimeters, refractometers, carbon residue testers, vapor pressure testers, pour/cloud point testers, softening point testers, sulfur analyzers, plugging point testers and aniline point testers.