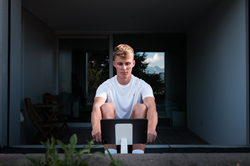 Providing this affordable fitness innovation that anyone can use no matter where they live is rewarding on so many levels. We're excited about getting ROWBRO out to everyone who values their health and supports our vision
LUCERNE, Switzerland (PRWEB) February 07, 2023
The tremendous response to ROWBRO's launch on Kickstarter proves a lightweight, quiet, affordable and portable rowing machine was long overdue. Over $100,000-usd was raised within an hour of launch and the campaign is on pace to become one of the most successful fitness products in crowdfunding history. The creators of ROWBRO are grateful, but not surprised by the enthusiastic response.
"We did our homework before launching ROWBRO and we knew our compact, indoor rower would be a hit," said Diego Kaufmann, who invented ROWBRO with his brother Florian. "Providing this affordable fitness innovation that anyone can use no matter where they live is rewarding on so many levels. We're excited about getting ROWBRO out to everyone who values their health and supports our vision."
ROWBRO works with magnetic resistance technology which ensures a silent and very effective workout at home. The patent-pending product design eliminates the need for a heavy steel frame making ROWBRO the lightest rowing machine on the market. As a bonus, ROWBRO also comes with a pull-up bar for biceps training.
ROWBRO's Standout Features:

Weighs just 26lbs (12kg), substantially lighter than traditional rowing machines
Ergonomically designed with a modern minimalist aesthetic
Quick and easy assembly
Comes with a pull-up bar to work biceps and much more
Uninstall the pull-up bar using the included hex key and fold the guide rail in half for easy storage
Made for rowing novices and pros, ROWBRO has adjustable levels of resistance
Display devices securely during a workout session with the built-in smartphone/tablet holder
The Bluetooth-connected ROWBRO app tracks workout time, calories, split time, and stroke rate
ROWBRO is offering Early Bird specials to crowdfunding backers. For more information and to pre-order, visit ROWBRO on Kickstarter.
About ROWBRO
DFK Ltd. was founded in 2019 with the aim of developing innovative products that truly meet the needs of fitness and sports enthusiasts. The company's first product, ROWBRO, is set to revolutionize the home fitness industry. The patent-pending design makes rowing accessible to everyone and is the world's most compact rowing machine.