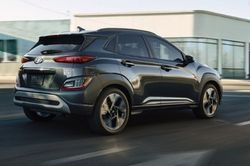 BURLESON, Texas (PRWEB) January 02, 2023
Compact SUVs are making positive waves in the automobile market. Drivers who predominantly stay in cities love owning compact vehicles as they help them handle daily traffic better. With an SUV, they get enhanced power and performance as well. The latest version of the Kona compact SUV model of Hyundai, the 2023 Hyundai Kona, is now available for purchase at the Hiley Hyundai of Burleson dealership. The vehicle's modern design and enhanced features make it one of the enticing prospects among SUV enthusiasts.
Interested buyers can now explore the new 2023 Hyundai Kona SEL via the dealership's well-maintained and detailed website. This gives drivers a chance to learn more about the features and technical specifications of the vehicle before making a purchase decision. Buyers residing near Burleson can visit the dealership directly and test drive the 2023 Kona SEL. This helps them analyze how the vehicle performs on the road. The SUV is available in an all-wheel-drive configuration.
Please visit the hileyhyundaiofburleson.com website to learn about the various Hyundai vehicles and services available at the Hiley Hyundai of Burleson dealership. For more information on the 2023 Hyundai Kona SEL compact SUV, kindly visit the dealership at Hiley Hyundai of Burleson, 320 N Burleson Blvd, Burleson, TX 76028 or contact them by phone at 817-945-9900.