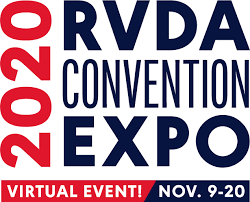 FAIRFAX, Va. (PRWEB) October 14, 2020
RVDA, the National RV Dealers Association, has released its exhibitor prospectus for companies interested in participating in the 2020 RV Dealers Convention/Expo, which will go virtual this year on November 9 through 20.
RV shipments are expected to surpass 400,000 wholesale units by the end of 2020 and see continued growth in 2021 to more than 500,000 units, according to the Fall 2020 RV RoadSigns prepared by ITR Economics for the RV Industry Association.
Prospective vendors can reserve virtual booths that will remain online through January 31, 2021. The booth's flexible design is an affordable way for exhibitors to digitally connect with RV dealers – including video, email, scheduling appointments, live chat, and by offering brochures and other promotional materials for download. Exhibiting companies will be searchable by company name, product/service category, and keyword search.
In addition to exhibiting, vendors can host Vendor Training +Plus (VTP) sessions. VTP sessions are a company's opportunity to present their own content and provide attendees with in-depth product or service information, case studies, educational demos, or topic of choice.
Analytics through the virtual platform will help to grow a company's leads database, easily follow up with individuals through appointment booking, see where a booth is attracting the most and least attention, and track visitor information outside of designated expo hours. To access the prospectus,click here.
Sponsorships and partnerships for the virtual event are available for companies looking to connect with dealers and showcase their brand. For more information contact Julie Newhouse at jnewhouse@rvda.org.
The RV Dealers Convention/Expo is presented by RVDA, RVDA of Canada, and the Mike Molino RV Learning Center. Follow the convention on social media using #RVDAConEx and visit http://www.rvda.org/convention to register and for regular updates.
P2037A 10-13-20