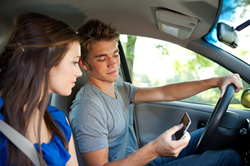 "Teen drivers should keep their focus on the road and adapt their driving style", said Russell Rabichev, Marketing Director of Internet Marketing Company.
Los Angeles, CA (PRWEB) February 02, 2019
Compare-autoinsurance.org has launched new car insurance for teens blog post that explains how teenagers can drive safer.
Teen drivers are more likely to cause an accident than any other age group. Decisive factors that lead to a higher number of car accidents caused by teen drivers are their lack of experience and immature behaviors. Insurance companies label teen drivers as high-risk drivers, and they charge extra on their premium rates. To reduces their premium costs, teen drivers should follow these safe driving tips:

Teen drivers should prepare their car before hitting the road. That means, they should the gauge levels, adjust the mirrors, and make sure the headlights are working,
Teen drivers should stay away from distractions. Young drivers have to stay focused on the road and avoid distraction like eating, applying makeup, or texting on the phone.
Teen drivers should respect the speed limits. Many teenagers lost their lives in accidents caused by speeding.
Teen drivers should avoid driving with other teenagers. It's better to drive alone than driving together with other teenagers. Teenagers are a major source of distraction, and they can influence teen drivers to drive recklessly.
Teen drivers should be extra cautious when driving at nighttime. Inexperienced drivers like teens drivers are more exposed to dangers when driving at nighttime.
Teen drivers should take a defensive course. Defensive driving courses can improve the driving skills of teenagers and teach them how to stay away from distractions.
For additional info, money-saving tips and free car insurance quotes, visit https://compare-autoinsurance.org
Compare-autoinsurance.org is an online provider of life, home, health, and auto insurance quotes. This website is unique because it does not simply stick to one kind of insurance provider, but brings the clients the best deals from many different online insurance carriers. In this way, clients have access to offers from multiple carriers all in one place: this website. On this site, customers have access to quotes for insurance plans from various agencies, such as local or nationwide agencies, brand names insurance companies, etc.