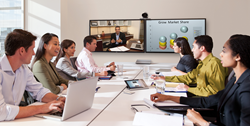 After launching in the United States we saw that this training was not available anywhere else.
Henderson, NV (PRWEB) August 12, 2013
Compass Business Solutions was the first to offer training for Cisco's CCNA Video certification. Now you can attend public session in global markets outside the United States, such as Canada, the United Kingdom and France.
"After launching in the United States we saw that this training was not available anywhere else," stated Jules Trono, President of Compass. "We have been working with partners in other markets to make our specialized training more accessible." Compass is the largest provider of telepresence and videoconferencing training in the US and also offers these training sessions globally.
"We have kept our focus on providing our students with knowledgeable trainers and experience that just doesn't exist anywhere else," stated Donna Wyvill, Content Development Manager with Compass. "This year, we launched electronic end-user training in both English and Spanish, CCNA Video, and our authorized updated version of the TelePresence courses. It is only natural to expand globally."
The course that contributes to CCNA Video is Implementing Cisco Video Network Devices course, also known by the acronym VIVND. It is available in Canada September 9th and 23rd, Sweden September 9th, the United Kingdom September 23rd, and France October 14th. Course dates through the end of this year will be posted for these and other markets, such as Asia and Australia, by the end of August.
Students or companies interested in learning more about Compass' training programs in the US and globally can visit http://www.compassprogram.com, and can contact Lisa Santiago at +1 (760) 688-4045 or +1 (877) 234-0635 for more information.
About Compass Business Solutions
Compass, the largest provider of telepresence and videoconferencing product line training, provides a one-stop resource for sales, technical and end-user training for visual communication products (compassprogram.com).
Compass Business Solutions is a learning company focused on helping people use and support video communication and telepresence technologies to improve their business. Training sessions follow a best practices approach to optimize all aspects of video usage and support. Compass was founded in 2008 by industry professionals who have been working with telecommunication and video technologies since 1989 and who helped launch Tandberg University in the USA in 2006, then becoming Cisco's first authorized TelePresence Specialist Learning Partner in the US.