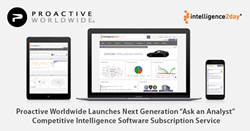 Real-time data research delivery of this kind has never been explored before...
Chicago, IL (PRWEB) May 12, 2017
Global strategic Intelligence consultant, Proactive Worldwide, Inc. (PWW), has just announced a new, next-generation capability of Intelligence2Day®, a competitive intelligence platform it offers in partnership with Comintelli. Promoted under the name "Ask an Analyst," PWW hopes, with this evolutionary software leap, to change the way and the speed with which customers can ask for and retrieve primary research data to help them make more informed business decisions.
CEO Gary Maag stated, "Real-time data research delivery of this kind has never been explored before. We like to describe it as Automated Competitive Intelligence, using the best primary research services available to date." He added that the PWW team, in concert with its software partner Comintelli, was very pleased to have successfully built this new capability around a subscription-based model within the Intelligence2day® software product.
Maag explained that customers who have the Intelligence2Day® Ask an Analyst subscription will be able to quickly ask for and obtain primary research through the service, a time- and resource-saving strategy that provides immediate market/competitive intelligence advantages. Dialog/dashboard navigation technology allows clients to describe their research topic parameters and choose delivery deadlines for when research replies are required.
About Proactive Worldwide
Proactive Worldwide, Inc. is a global research and strategic intelligence consulting firm that provides evidence-based, constructive information within the competitive intelligence, market intelligence, and customer intelligence domains. Anchored by primary source research for over 21 years, Proactive's multilingual professionals assist our clients with offerings that include but are not limited to competitive research and assessment services, market entry and defense strategies, war gaming simulations and scenario planning events, and customer experience and user experience studies. To learn more, visit http://www.proactiveworldwide.com.
About Comintelli
Comintelli is a software company that provides a cloud-based service for information access called Intelligence2day®. It provides solutions for Competitive Intelligence and Knowledge Management that helps customers manage their unstructured information more effectively. Founded in 1999 and with extensive industry experience, Comintelli continues to develop user-friendly solutions that save both time and money. To learn more, visit http://comintelli.com.