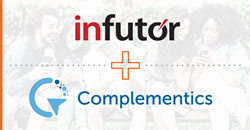 "As Complementics continues to scale its mobile audience network, we are proud to be a strategic cross device identity resolution data partner that will help their customers access the richest, most accurate auto data available anywhere." -- Gary Walter, Infutor CEO
OAKBROOK TERRACE, Ill. (PRWEB) June 09, 2020
Consumer identity management expert Infutor today announced that Complementics, a mobile audience network, has added Infutor's enriched Automotive Profile Data to its network. The enhancement allows Complementics to grow their current auto audience to help empower brands and media agencies with rich, deterministically-linked auto and attribute data.
With deep data insights including cross device data, app segmentation, probabilistic and deterministic matching, Complementics' Mobile Audience Network now includes Infutor's authoritative and permissible consumer automotive data including accessible via automated batch processing.
"We believe this is the first of many additions to the Infutor partnership based on its ability to deliver the highest data accuracy at scale and in real-time for our ever-growing mobile audience network," said Walter Harrison, Co-founder and Chief Revenue Officer, Complementics. "With Infutor's automotive data, we've been able to double our audience size and have seen a lift in our consumer match rate, which is critical as we look to see movement in the auto buying category and identify high-potential in-market auto consumers."
Infutor's TrueSourceTM Identity Graph matches privacy-compliant hashed email identities from Complementics' Mobile Audience Network to Infutor's auto attribute data. The consumer auto data file includes vehicle make, model, year and validation date for targeted acquisition or personalized trade-in campaigns. Complementics also plans to utilize Infutor automotive data as critical market research for re-emergence of consumer economic buying behaviors and patterns.
"As Complementics continues to scale its mobile audience network and data monetization offerings, we are proud to be a strategic cross device identity resolution data partner that will enable their growth and help their customers access the richest, most accurate auto data available anywhere," said Gary Walter, Infutor CEO.
About Complementics
Complementics™ is a mobile data company with more than 400M mobile device IDs in the U.S. and 1B globally specializing in location, audience building and deterministic linkages. A division of eContext.ai, Complementics also features offline data from more than 100M U.S. households, providing customers with an all-encompassing data source for deep insights. To learn more about Complementics, visit http://www.complementics.com.
About Infutor
Infutor is the expert in data-driven consumer identity management. The company is solely focused on enabling brands to instantly gain access to the most complete and accurate information about consumers, exactly when they need it, to make informed marketing and risk mitigation decisions. Infutor's mission is to deliver solutions that accurately identify consumers before, during and in-between engagements, giving brands a secure, privacy compliant foundation to improve inbound engagement and outbound omnichannel marketing reach, and to minimize losses due to fraud and non-payment. Infutor acquired Ruf Strategic Solutions in 2018 for its extensive suite of customer analytics that aid marketers' data-driven decisions. Led by information industry veterans, Infutor is a privately held company founded in 2003 with strategic investments from Norwest Venture Partners. Infutor is headquartered in Oakbrook Terrace, Ill. For more information, visit http://www.infutor.com.