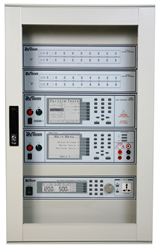 (PRWEB) April 12, 2019
Associated Research's MedTEST remains the desired system for medical manufacturers around the globe. The MedTEST system can be designed to provide a complete test solution for medical device manufacturers in need of conforming to the IEC 60601-1 3rd Edition Standard. Customize the MedTEST system to satisfy individual application requirements including Hipot, Ground Bond, Insulation Resistance, Functional Run and Line Leakage testing.
MedTEST Features:

Efficiently perform Earth Leakage, Patient General Leakage, Patient Auxiliary Leakage, and Mains on Applied Part Tests.
ActiveLink® technology maintains continuous power to a DUT during a leakage current testing sequence, which results in minutes saved on a Production line test.
I-MAX provides an in-depth analysis of the insulation on an electrical product.
Popular MedTEST Configurations:

OMNIA® II 8207 and SC6540
OMNIA® II 8206, SC6540 and powered by an APT AC Power Source
OMNIA® II 8204, 620L, SC6540 and powered by an APT AC Power Source
Get the most from your test system by utilizing Autoware® 3 software for maximum productivity-enhancing benefits.
Contact the company at 1-847-367-4077, e-mail at feedback@ikonixusa.com or visit their site at http://www.arisafety.com. For editorial questions, please contact Amanda Boothe at amanda.boothe(at)ikonixusa.com.
Founded in 1936, Associated Research is a worldwide leader in Electrical Safety Compliance Testing Instruments.