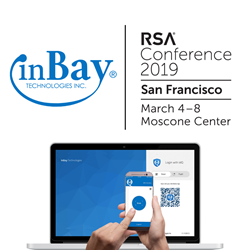 Counting up new financing and customers, inBay is proud to be a presenter at the RSA Conference Booth S 1953.
OTTAWA, Ontario (PRWEB) March 06, 2019
inBay Technologies, developers of 'passwordless' authentication solutions, today announced the company is at the RSA conference riding on the coattails of an agreement with CANARIE, in which inBay came out on top in a competitive selection process.
"I'm thrilled to announce signing CANARIE as one of our customers," said Shane Young, President & CEO of inBay Technologies. "On track to capitalizing on inBay's global opportunity, we are delighted to have yet another partner who is excited about our technology. This important milestone will help inBay accelerate commercialization of our idQ® Enterprise Digital Identity Platform and deliver compelling value to enterprise customers with the first and only digital identity that can't be stolen."
With a mandate to design and deliver digital infrastructure and drive its adoption for research, education and innovation, CANARIE's ultra-high-speed digital network is the backbone of Canada's National Research and Education Network that connects over a million researchers, educators and innovators to each other and to technology partners and innovators around the globe. "Following an evaluation of best-in-breed multifactor authentication tools, we're pleased to announce the selection of inBay Technologies," said Peter Wilenius, VP Business Development, CANARIE. "We're thrilled that ultimately inBay's advanced technology was successful in competing with industry leading suppliers."
To see how security has never been so convenient, visit inBay at the RSA Conference Booth S 1953.
About inBay Technologies
inBay Technologies Inc. delivers a convenient, safe and secure access to enterprise services and applications. The company's idQ® Enterprise is a unique and innovative SaaS that eliminates the need for user names and passwords. The idQ® Enterprise is a highly reliable and scalable mutual identity assurance platform. It enables companies of all types and sizes to employ leading edge multi-level, multi-factor 'passwordless' authentication and real-time authorization solution. Visit http://www.inbaytech.com for more information about the company.