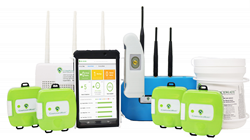 "We help our customers to continuously improve food safety and operational efficiency in their own kitchens," says Paul Gough, International Director at ComplianceMate Ltd. "That requires innovative thinking, and we're honored to see our work repeatedly recognised all around the world."
LONDON (PRWEB) March 04, 2020
ComplianceMate Kitchen Smart Systems combine remote wireless sensors with customisable digital checklists for restaurants and food service operators. The sensors allow operators to monitor and record temperatures inside any cold-holding units in real-time, generating alerts anytime temperatures go out of specification. Staff can also create and complete custom digital checklists for literally any regulatory or brand-specific compliance benchmarks from any mobile device.
The internationally award-winning system was selected as a 2019 German Innovation Awards recipient from the German Design Council. That win follows other recent honors, including winning the 2017/18 Internet of Things/Wearable Technologies Innovation World Cup® in the retail category and selection as a 2019 Kitchen Innovations® Award recipient from the US-based National Restaurant Association.
"We help our customers to continuously improve food safety and operational efficiency in their own kitchens," says Paul Gough, International Director at ComplianceMate Ltd. "That requires innovative thinking, and we're honored to see our work repeatedly recognised all around the world."
The ComplianceMate system sets itself apart in a variety of ways, including:

Cutting-edge LoRa-based temperature sensors that surpass Bluetooth and Wi-Fi performance,
User-centric design so operators can focus on managing the checklist, not the app,
Above-unit visibility so that users with more than one store can gather and visualize real-time data both organization-wide and down to individual locations or regions,
Smart features that protect against fraud and human error, and more.
Real time reporting of cooler performance and smart alerting (avoiding defrost cycles)
Reduces food waste and labor cost for a quick ROI
In addition, ComplianceMate Enterprise scalable to include large-scale commercial operations down to smaller operations, with a focus on promoting food safety using an efficient, user friendly system at an affordable cost – with excellent ROI.
Altogether, ComplianceMate™ streamlines food safety compliance checklist and cooler monitoring for thousands of restaurant locations across the US, Canada, the EU, and the UAE. Demos will show how ComplianceMate can speed up checklist automate monitoring processes and create operational efficiency in the back of the house. To schedule a 15-minute demo with ComplianceMate, visit Booth #H455 in the Hospitality Tech Show area any time during show hours from March 3-5. Visit http://www.compliancemate.com for more information.