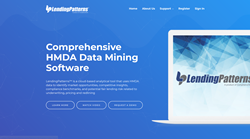 "We are pleased that our stellar research and development team has brought new ideas that take advantage of the expanded HMDA data that includes borrower qualification information and more pricing details. The format creates an opportunity for understanding the mortgage lending market in new ways."
MCLEAN, Va. (PRWEB) March 12, 2020
ComplianceTech, McLean, VA, today announces the launch of the "New LendingPatterns™ Experience," on a secure platform fully hosted in the cloud. Users of LendingPatterns™ can now access multiple years of public Home Mortgage Disclosure Act (HMDA) data on mobile devices to pinpoint areas of potential fair lending and CRA issues related to underwriting, pricing, steering, and redlining. In addition, users can now analyze disparities while controlling for borrower qualifications.
LendingPatterns™ uses business model peer analysis to benchmark fair lending performance and identify outliers. ComplianceTech has also expanded lender pricing reports to include interest rate, fees, and other closing costs to identify disparities in pricing by race, ethnicity, gender, and age. LendingPatterns™ is used by lenders, federal and state regulators, researchers, investigative journalists, and community-based organizations to analyze the massive HMDA database.
"We are pleased that our stellar research and development team has brought new ideas that take advantage of the expanded HMDA data that includes borrower qualification information and more pricing details. The new HMDA format creates a huge opportunity for understanding mortgage lending, fair lending, and CRA in ways that were not previously possible," said Michael Taliefero, Managing Director of ComplianceTech. "In addition, users that need access to LendingPatterns™ reports in the field should benefit from the ability to analyze the public data securely on a mobile device."
LendingPatterns™ and its companion product, Fair Lending Magic™ were designed by lending industry experts with many years of fair lending software development and compliance exam readiness consulting. ComplianceTech, founded in 1992 is a leading provider of software and services to make compliance with fair and responsible lending easier. ComplianceTech aspires to be a valued resource for information, education, and technology for HMDA, fair lending and CRA analysis.
For more information, contact Dana Ginsburg at DanaGinsburg(at)compliancetech(dot)com or call her on 202-618-7079.