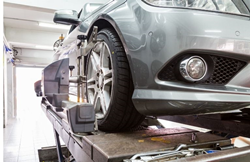 WINDER, GA. (PRWEB) November 11, 2021
Akins Ford, a dealership and service center in the Atlanta area is offering all its customers a complimentary brake inspection along with regular service appointments. Winter is approaching and it is essential to get a vehicle inspection done before the snow hits. Keeping this in mind, Akins Ford is offering a free brake inspection performed by an expert technician to all its customers. The inspection will include inspecting the brake friction material, caliper operation, rotors, drums, hoses and connections. The technician will also examine the parking brakes for damage and ensure proper operation.
According to the dealership website, the complimentary brake inspection offer is valid until 31st December 2021. This offer can be availed of only a specific coupon.This coupon is available for printing on the dealership website. Interested residents of the Atlanta area are encouraged to visit the dealership website and get the free brake inspection on their next vehicle service appointment.
Akins Ford offers numerous services like tire balance and rotation, multi-point inspection, battery and brake-pad replacement. Prospective clients can schedule a service appointment at Akins Ford by visiting the dealership's website or by visiting the dealership in person. Akins Ford has the largest selection of Ford vehicles in Georgia. The dealership is located in the Atlanta metropolitan area at 220 W. May St. in Winder, GA. They are open for business Monday through Friday from 8:45 a.m. to 7 p.m. and on Saturday from 8:45 a.m. to 5:30 p.m.