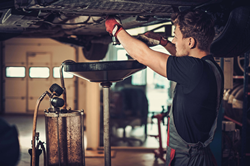 LAKE CHARLES, La. (PRWEB) October 12, 2021
A critical aspect of car care is the timely changing of a vehicle's engine oil. The oil in a vehicle helps keep the car's moving parts lubricated, preventing the wear and tear of the car's vital components. Therefore, drivers must carry out regular maintenance of oil. Lake Charles Toyota offers oil and filter change services to the drivers of Lake Charles, Los Angeles.
Maintaining oil protects the engine against corrosion, prevents wear and tear, keeps the engine clean of debris, increases mileage and the lifespan of the lifespan of the engine, maintains its environment friendliness and cools the engine components. Thus, it is essential to take the vehicle to a dealership that provides the best service facility. Lake Charles Toyota is known for quality automotive service and repair. Currently, the dealership is running complimentary oil changes and state inspections for the drivers who purchase any new Toyota vehicle or a certified Toyota vehicle from their Lake Charles, Los Angeles, dealership. These services are complimentary for life; as long as you possess the vehicle, you can avail of the complimentary services.
The dealership offers several express maintenance services such as brake inspection, tire rotation, multi-point inspection, fluid inspection and oil and filter examination. The express maintenance services help drivers get the service done quickly, at the right price and with the quality you expect from a Toyota dealer.
Interested individuals who want to avail of the complimentary oil change and inspection service can drive down to the dealership and schedule an appointment. Drivers who want to learn more about the coupons can visit the website of the dealership at http://www.lakecharlestoyota.com. Drivers can directly go to the dealership and inquire about the services offered at Lake Charles Toyota in Lake Charles, Los Angeles.