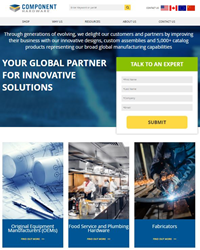 We wanted to provide a clear message of who we are, what we stand for and the unique value we provide to our customers, right on the homepage
LAKEWOOD, N.J. (PRWEB) November 19, 2019
Component Hardware Group® (CHG) is pleased to announce their redesigned website. The new look provides a more user-friendly browsing experience, and the design is easier and more intuitive to navigate. The launch coincides with CHG's expanding role as a global partner for innovative solutions, supporting the engineering and manufacturing needs of the Food Service and Plumbing Industries, Fabricators and Original Equipment Manufacturers (OEMs).
"We wanted to provide a clear message of who we are, what we stand for and the unique value we provide to our customers, right on the homepage. We are proud to develop, deliver and maintain our innovative designs, custom assemblies and a 5,000+ products catalog representing our broad global manufacturing capabilities" states Stephen King, Global Director of Marketing.
The website boasts a clean design with improved menu functionality, along with an easy and consistent site-wide navigation system that directs the user to the information that is most relevant to them. It is mobile responsive, making it intuitive to navigate on a wide range of web browsers and portable electronic devices.
The revamped resources section is host to a library of installation instructions, safety data sheets, product specification sheets, and learning videos, designed to help users quickly get educated on CHG products and services.
CHG understands customers' need for innovative engineering and custom sub-assembly manufacturing capabilities. Because of this, they have created specific landing pages that showcase how they can deliver those requests.
Finally, product search was modernized, enabling users to find the products quickly, by using keywords or part numbers.
For more information, please visit http://www.componenthardware.com. Follow CHG on LinkedIn.
About Component Hardware Group, Inc.
Established in 1981 and headquartered in Lakewood, NJ, Component Hardware Group (CHG) is a market leader with engineering, global manufacturing and distribution capabilities serving the food service, commercial and institutional markets. CHG offers proprietary and industry-specific specialty components, as well as, a wide array of commercial plumbing products, kitchen exhaust system components, and refrigeration equipment hardware. From small custom designs to large-scale projects, Component Hardware is recognized for providing the industry's best casting, forging, stamping, machining, injection molding, fabrication and custom sub-assembly solutions to its customers.