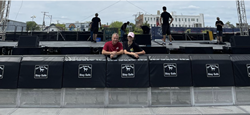 "...we could not help but feel heartbroken for the families and friends affected by tragedies that have happened at recent events," said Dan Curtin, President of Comprise. "...we jumped at the opportunity to provide the resources and expertise to help [Catherine] bring her vision to life."
NAVESINK, N.J. (PRWEB) March 16, 2023
Comprise Technologies, Inc. introduces Crowd Cushion™ - a revolutionary safety system that senses pressure on crowd control barriers and warns event management in real time. The ultimate goal? To provide the entertainment industry with a tool to prevent crowd crush injuries, or worse, at live music and sporting events. Developed in time for an extensive pilot program on the Summer Stage at The Stone Pony in Asbury Park, N.J., Comprise seeks to push Crowd Cushion™ to become the new standard for stage front crowd safety for venues and events across the nation.
The vision of Catherine Curtin, a University of South Carolina graduate motivated to act following her own stressful experiences at high-profile festivals, Crowd Cushion™ provides instant visual identification of the exact barriers experiencing excess pressure and immediately communicates to event management via an integrated Control Center system.
"Catherine means the world to our family so we could not help but feel heartbroken for the families and friends affected by tragedies that have happened at recent events," said Dan Curtin, President of Comprise. "Following Catherine's own personal stressful experiences at major events, we jumped at the opportunity to provide the resources and expertise to help her bring her vision to life."
Crowd Cushion™ consists of three integrated components:

Attendee-facing barrier cushions with embedded pressure sensors. Heavy marine grade vinyl and rugged duty sensing technology enables Crowd Cushions™ to stand up to both energetic fans and adverse weather.
Control Center configuration interface with real time data visualization and reporting. Settings for cushion sensors can be adjusted to meet individual venues' needs and the status of all cushions is displayed on the Control Center software dashboard.
State-of-the-art communication technologies. Crowd Cushion™ text messages warn management while alert lighting on the back of the pressured barriers warn stage front security so they can see exactly where the problem is, and quickly troubleshoot the safety issue.
Every Crowd Cushion™ unit is carefully assembled and tested at the Comprise Technologies, Inc. facility in Navesink, N.J., is designed to adapt to different barrier brands/layouts and features a quick attach/remove mounting bracket.
For more information visit crowdcushion.com or contact Catherine Curtin at 800-854-6822 x232 or ccurtin@comprisetechnologies.com.
IMPORTANT: Crowd Cushion™ is NOT a crowd control device, nor is it designed to reduce, distribute, or otherwise attenuate any force exerted on a barrier. Crowd Cushion™ function is strictly limited to the identification and notification of force on a cushion-equipped barrier. No other function, purpose, role, or responsibility may be ascribed to Crowd Cushion™ and if done so, is specifically disavowed.
###
ABOUT COMPRISE TECHNOLOGIES, INC.
Comprise was formed in 1991; we are headquartered in Navesink, N.J. Our expertise, developed over 20 years, is to integrate hardware components with proprietary software to commercialize products that meet the needs of niche markets. Our mission is to help customers enhance services and increase cost efficiencies associated with public-use technologies. We are proud to say that we have been an enabling contributor to the role technology plays in important community centers such as public libraries. We look forward to contributing our expertise in the search for solutions to the challenge of crowd safety at entertainment events.
Along the way, Comprise has grown to about 25 professionals dedicated to your satisfaction with our products. Team members are divided equally among Sales, Project Management, Development, Technical Support, and Customer Service…almost half of our staff has been with the Company for a decade or longer. Collectively we devote 100% of our energy to the research, development, implementation and support of technology products for our chosen markets. We invite you to explore our website and hope to gain the opportunity to be able to help meet your needs. Visit https://comprisetechnologies.com/ for more information.