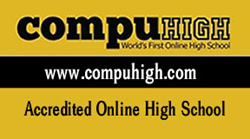 Student athletes have worked for years building the discipline required to be successful at their sport. This same discipline is exactly what is needed for success in a self-paced, mastery learning program like CompuHigh.
(PRWEB) June 09, 2015
The 2014-15 school year has proven to be a record year for CompuHigh's online high school NCAA program. CompuHigh had record numbers of NCAA enrollments in individual courses as well as their online diploma program.
Last spring, CompuHigh administration recognized a need in many places across the nation for nontraditional NCAA approved core courses and began a targeted outreach strategy to high school athletic directors. Many high schools found that CompuHigh's scheduling flexibility was a good fit for their athletes who needed to earn additional core credits to maintain their NCAA eligibility status.
The NCAA has stringent standards for approving what they call "nontraditional" core courses. This includes any courses provided by online schools, distance learning, independent study, individualized instruction, or correspondence methods. According to the NCAA, courses must be rigorous enough to truly prepare a student athlete for college level academic work. Courses must also include regular contact with a qualified teacher, formal assessments, verification of student identity, as well as a range of other standards. More information about their standards can be found at this website: http://www.ncaa.org/student-athletes/nontraditional-courses
CompuHigh courses are demanding and meet the standards of rigor expected by the NCAA. However, CompuHigh's specialized "mastery learning" methodology allows all students to meet these rigorous standards by providing them the opportunity to take as much time as they need to master each lesson. Students work with continuous teacher feedback to keep trying on each lesson until they show mastery of the skills and content. According to CompuHigh, this mastery system empowers students to fill in any missing skill sets and genuinely prepare for college level work.
"Athletes tend to have quite a full plate," acknowledges Educational Director, Jeannette Geib. "It can be a challenge to juggle school with hours of daily training. CompuHigh offers an ideal balance of rigor and flexibility. Students can log-in and work on their school work at any time of day or night including weekends without having to worry about meeting times or weekly due dates. They can depend on timely and helpful individual feedback from our teachers who will work with them and hold them accountable for truly understanding the material."
As part of ramping up their NCAA program, CompuHigh also expanded core course offerings, streamlined the proctored final exam procedures, and began providing a specialized NCAA guidance counselor. New course offerings include honors level English courses, Introduction to Psychology offered as a core social studies credit, and Earth Science offered as a core non-lab science credit. For a complete list of CompuHigh's NCAA approved core courses, visit NCAA's high school portal and enter CompuHigh's school code, 490940:https://web3.ncaa.org/hsportal/exec/hsAction?hsActionSubmit=searchHighSchool
Requiring a proctored final exam is one way that CompuHigh meets NCAA's standards for verifying the student's identity and providing formal assessments. Students must earn a passing grade on the exam to earn credit for the class. The grading process for these required exams has been streamlined so that students can know their exam results by the next business day.
NCAA students at CompuHigh work with a specialized guidance counselor who is knowledgeable about NCAA eligibility requirements. The guidance counselor provides weekly progress reports about the NCAA student's progress through the course and offers suggestions about how to keep on track toward course completion goals. This service can help keep busy student athletes as well as their families and coaches focussed on the big picture since, as Geib states, "it can be easy to procrastinate on the one 'self-paced' responsibility when there are many other responsibilities competing for someone's time." Geib goes on to explain, "Student athletes have worked for years building the discipline required to be successful at their sport. This same discipline is exactly what is needed for success in a self-paced, mastery learning program like CompuHigh."
About CompuHigh:
CompuHigh is a private online high school providing diploma programs and individual courses since 1994. CompuHigh is accredited by AdvancED and is also an approved NCAA core course provider. CompuHigh's private diploma program high school is called Whitmore School. For more information about CompuHigh, visit http://www.CompuHigh.com or call 1-866-859-0777 to speak with Melissa, the Admissions Specialist.