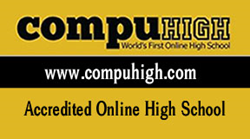 CompuHigh's flexible scheduling makes it ideal for students who have family trips, camps, athletic training, or summer jobs planned for their summer months
(PRWEB) April 22, 2015
As many school systems across the nation are cutting summer programs because of budget gaps, CompuHigh is available to high school students who need to take credits over the summer to graduate on time, make up failed courses, or work out scheduling conflicts. CompuHigh is accepting enrollments for summer school courses at a reasonable tuition fee now through the summer months.
CompuHigh is a private online high school accredited by AdvancED which serves students across the U.S. and internationally. CompuHigh is also one of just a handful of online high schools that is approved by the NCAA to offer core courses to college-bound student athletes.
CompuHigh's flexible scheduling makes it ideal for students who have family trips, camps, athletic training, or summer jobs planned for their summer months. Courses are entirely self-paced. CompuHigh courses can be worked on any time of day or night, and students are free from having to attend live meeting times or rush for weekly assignment deadlines.
Students must clear a course with their guidance counselor before enrolling in the course at CompuHigh. CompuHigh course listings can be found on their website under "Demo Courses." This includes all the lesson titles in each course as well as a demo lesson for each course CompuHigh offers. "I encourage students to meet with their guidance counselor as soon as possible to discuss the possibility of taking summer school classes at CompuHigh," says Educational Director Jeannette Geib. "Each school has its own policy about transferring in outside credits. Guidance counselors often need to request more information such as the course standards or a syllabus. We are happy to provide that information."
CompuHigh uses a mastery learning model of education in which students work on each lesson with the guidance of their teacher until they master all of the objectives for that lesson. According to Geib, "Self-paced, mastery learning can be ideal for students who have struggled previously in a course because they can quickly do the lessons they already know how to do and spend more time and get more help on the skills that they have missed."
Student have a full 12 months to complete their course after they enroll at CompuHigh. However, often the high school that the credit is being transferred to has a deadline of the end of summer. Students must complete all the lessons in the course to get credit for the course. Additionally NCAA students must arrange and take a proctored exam. Students need to set a pace that allows them to complete the course by their deadline. "Students should begin work on their Summer School course as soon as the summer begins and try to finish a few lessons each week. Revisions of each lesson are a critical part of the mastery learning process, allowing students to take more time with each lesson. Putting the coursework off to the end of summer is not a good idea," states Geib.
About CompuHigh:
CompuHigh is an private online high school providing diploma programs and individual courses since 1994. CompuHigh is accredited by AdvancED and is also an approved NCAA core course provider. CompuHigh's private diploma program high school is called Whitmore School. For more information about CompuHigh, visit http://www.CompuHigh.com or call 1-866-859-0777 to speak with Melissa, the Admissions Specialist.